What is Next in the Sales Enablement Industry?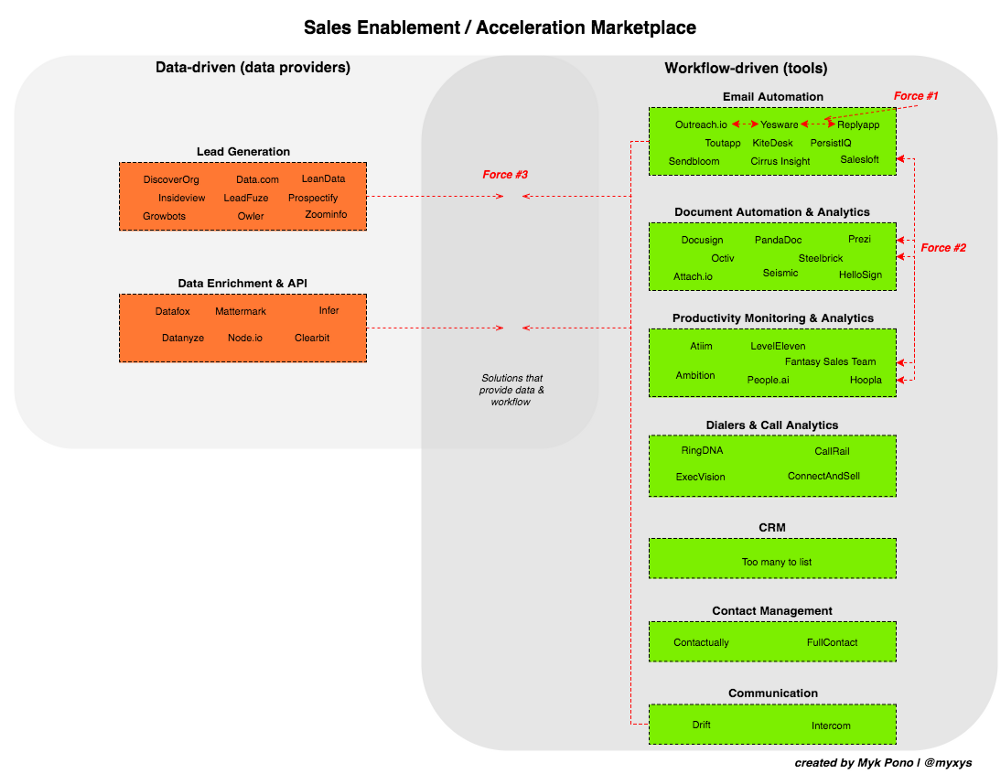 Over the last couple of years, I have counseled/advised a dozen companies in the sales enablement industry. This article is an attempt to understand how the industry might change in the near future.
NOTE: I'm neither working for, nor advising any company in the sales enablement market, nor have I been paid for or benefited from expressing my views in this article. All views are mine only.
---
A major shake up is happening in the sales enablement (aka sales acceleration) market, and not every SaaS company will come out alive. A few startups will survive, some will be acquired or will merge, several will morph into a lifestyle businesses, many will go out of business, and a very few category leaders will benefit disproportionately.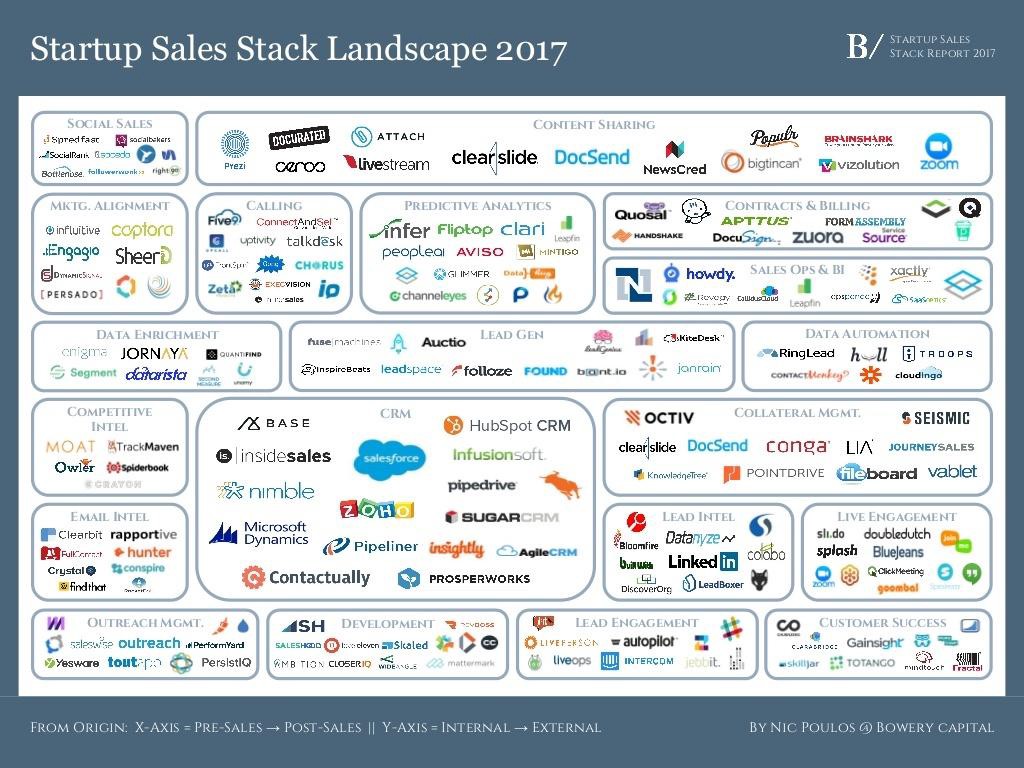 These changes are already in full swing: a few companies are currently struggling to grow their revenue or raise new funding. Against this backdrop, many have had to downsize or change their product roadmap.
New entrants in this market will face fierce competition. In order to succeed, these companies will need to bring substantial improvements in technology, like AI, or introduce innovative business models (see Zenefits example in the HR industry). With all the hype about AI, it seems too early to declare that artificial intelligence provides considerable improvements to what is currently available (both Martin Ford, the author of "Rise of the Robots," and Mark Cuban believe that significant improvements to AI will arrive in the next 3–5 years; I believe it will take a little longer.)
Before we go any further, let's define the sales enablement market. Every product that assists sales organizations on every step of the sales cycle is part of the sales enablement (aka sales acceleration) market.
There are two go-to-market strategies that companies often take in the sales enablement market: data-driven (or data-first) and workflow-driven (or workflow-first) approach.
For the purposes of this article, "data-driven" refers to an organization that sells data (rather than the more common definition of businesses that are effectively using data).
I. Data-driven vs. Workflow-driven Go-to-Market Strategies
In his article The Next Big Shift In SaaS, Redpoint Ventures investing partner Tom Tunguz shared the vision that the next phase in SaaS is the evolution from system of record products to workflow application solutions. System of record solutions are products that aggregate all the data for a company or specific department under one solution; common examples are Customer Relationship Management (CRM) and Enterprise Resource Planning (ERP) solutions. Workflow applications, on the other hand, improve or design new processes to make organizations more effective.
You may ask: isn't a system of record solution already part of the workflow applications? In another piece Tunguz highlighted that event-driven solutions are at the core of the next generation of workflow solutions. Events that initiate a workflow are coming from outside data sources and, in turn, are generating events/tasks inside organizations. For example, data-driven solutions notify the sales organization (through API integration) that the target account has implemented a new technology on their website. This event triggers an internal task which enables the sales team to build an appropriate workflow.
Therefore, it might better to divide the sales enablement market into data-driven and work-flow driven solutions. Data-driven companies provide lead and contextual data, while workflow-driven companies are designed to improve process and act on the incoming data.
Below is the diagram that breaks down product categories in the sales enablement market (based on Tunguz's original diagram). It shows that event-driven products are slowly taking over the system of records (per Tunguz's point) inside the workflow category: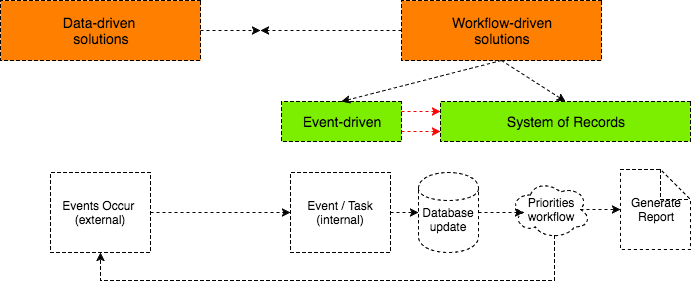 What are the challenges with a data-driven go-to-market strategy?
Some companies are coming to market with a data-driven (or data-first) approach. Data-driven companies design their product value proposition around selling data — contact, lead, company, competitor, and technology specific information. It's worth mentioning that this is raw data — not packaged or changed for each individual customer. Once the company gathers lead info of a particular contact, it can resell this data potentially an unlimited number of times.
The following graphic shows some companies in the data-driven (aka data-first category):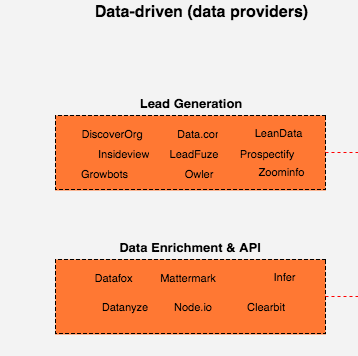 1. Commodity challenge: low switching costs & price sensitive customers
Data-driven companies in the sales enablement market are facing a few problems, the main being a commodity challenge. Raw lead data is a commodity product; as long as the data is accurate and up-to-date, all vendors provide the same information; the contact emails and phone numbers are the same whether they came from Zoominfo or Insideview.
In the lead data business, it's possible that the more businesses lead data is sold to, the less valuable that data becomes. That's because many companies will be reaching out to those same prospects, potentially causing cold email fatigue. If a lead data vendor has just ten customers, it is likely that a high value lead (with VP title) will be pitched by all ten of those companies — competitive, but not an overwhelming amount. Yet if a vendor has a thousand customers, that high value lead will likely be bombarded by sales emails from tens, if not hundreds, of companies — making them much less likely to bite on any given one, and probably annoyed: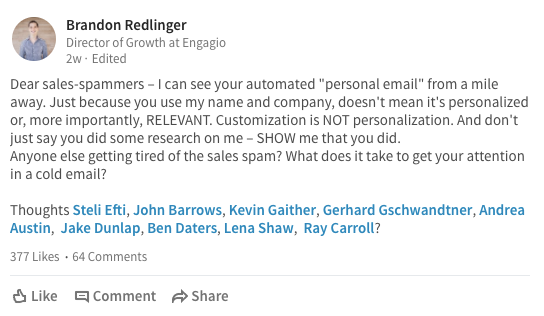 With so many options, these services become interchangeable: it's easy to switch from one data provider to another because they all integrate with major CRM systems. Commodity products create price conscientious customers, and competing only on price isn't a sustainable long-term strategy.
Plus, when switching costs are near zero, it's easy for a customer to change providers at short notice. Many use a few data providers simultaneously for awhile before picking a solution.
So how will your company differentiate itself?
2. Scraping challenge: the rise of anti-scraping solutions
Data providers rely heavily on scraping the web to generate their databases. LinkedIn API is as limiting as ever these days, the reason I have argued that LinkedIn has limited its growth and ability to compete with Salesforce. On the other hand, more sophisticated companies protect their websites from scraping by bots and automated algorithms. Many security companies have built significant businesses by protecting corporate resources from scraping.
So how do companies get the data?
3. Data freshness challenge: constantly expiring data
Keeping data fresh is another challenge. People change companies and positions often enough that if any part of the data isn't completely renewed every 12 months, much of it will become useless.
How can companies continually access up-to-date data?
4. Context challenge: context is far from real-time
Some players in this category claim to provide data with context, but most overpromise and underdeliver, because truly contextual data has to be near real-time. For example, today's and tomorrow's weather might be a good predictor of someone's willingness to buy ice cream, but yesterday's weather is obsolete and has zero value today aside from a pure historical analysis.
The information that a company is looking to find a Salesforce alternative today provides valuable context, but it is likely to arrive too late to be of value by the time the Salesforce tags have been changed on the corporate website, indicating that a switchover has already happened.
How will a company get real-time, actionable data?
The good news is that, despite these obstacles, it's still possible for data-first products to build a competitive advantage in data mining, scraping, data science technologies.
What are the challenges with a workflow-driven, go-to-market strategy?
Another go-to-market strategy is a workflow-driven (aka "workflow-first") approach. Workflow-driven companies design tools to improve productivity, making processes more efficient and effective for sales organizations. Products that track the sales process and improve its effectiveness and efficiency are great examples of a workflow-driven products: CRMs, email automation, productivity monitoring & analytics, communication solutions and others.
1. Low barrier to entry: UI and user experience is the only real differentiation
The challenges of data-driven products pale in comparison to the single challenge facing companies with a workflow-first approach: workflow-first companies have a low barrier to entry, so user-experience and user-design are the only competitive advantages.
That's why we have hundreds of CRM systems and a couple dozen email automation solutions, but much fewer lead generation and data enrichment solutions.
Let's look into three forces that are behind the changes in the sales enablement industry:
II. Competitive Forces in the Sales Enablement Market
Force #1: Competition inside each category creates a market that rewards the biggest, most established players
Due to the low barrier for entry and difficulty in differentiating one product from another, competition is heated. The result is that companies usually choose the leading brand with the most name recognition. Picking a leader is a safe bet and saves mental energy when alternatives aren't significantly better.

Force #2: Competition between categories (consolidation and bundling of features)
The fierce competition inside each category among all but the leading brands forces companies to bundle more features to their product. This is why we see email automation solutions adding products like document monitoring and analytics features to keep track of interactions.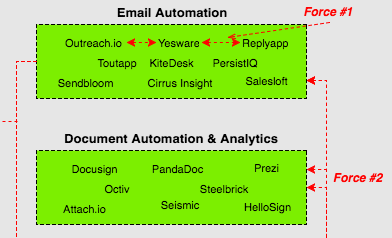 Why bundling is an attractive strategy for the sales enablement market at this stage
NOTE: I'm not advocating for or against bundling. My goal here is to show why bundling is becoming such a hot practice in the sales enablement market now.
1. ONE customer. MANY pains. ONE solution
In most cases, the sales enablement market targets VPs of sales, an organization's decision maker and buyer. By bundling products, companies avoid having to ask him or her to make several individuals, mentally consuming decisions. Companies are still selling to the same ideal customer profile which leads to a more efficient Customer Acquisition Cost (CAC). The key is to add features and product lines that are solely focused on the sales organization.
From the solution provider's point of view, bundling increases the Average Revenue Per Customer (ARPC), bringing scale and efficiency to marketing and sales. Additionally, platforms that bundle their product can benefit from a land-and-expand sales strategy: they can secure the account by undercutting competitors on price in one product line, and then recover lost revenue over the duration of the sales engagement via upselling.
Dealing with just one vendor is also a benefit for the customer — one point of contact, one bill, and one system for data records. Easy.
Many products and standalone features have reached technical saturation until the next major shift in technology happens (the next S-curve). So while being dependent on an all-in-one solution may seem risky, the real incentives to switch to another platform or product are unattractive: there's not enough additional value in a competitor's product line to offset the cost of switching.
Just how different can one email automation solution be from another?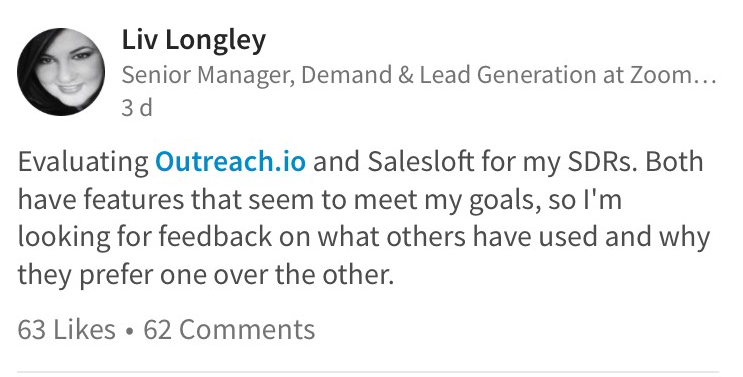 2. Integration efficiency
Bundling has another advantage: it eliminates the need to integrate products with each other, as well as with the CRM at the core of every sales organization. Just think about a few use cases: the sales team doesn't have to worry about whether its recordings of sales calls are synced properly with email analytics in your CRM. What if you want to examine whether an individualized pipeline for sales reps correlates with the calls made? Without a bundled product, the customer might have to ensure smooth integration between its pipeline and analytics system (like, say, InsightSquared), and its product that assists in making calls (like ExecVision).
With bundling, companies can avoid all incompatibilities since everything is packaged and delivered as one solution.
3. Protection from new entrants
New entrants to the market will face a steep challenge to develop the whole range of product lines to compete with any all-in-one solution. New startups can focus on solving one problem, but to be successful, this product has to bring such a greater value that it offsets the costs of switching. And as the state of tech stands, very few products can offer such a better product until the next innovation S-curve.
4. Reaching new customers
Bundling helps companies attack companies of different sizes and at different growth stages. A bundled solution it's an opportunity to get in the door and chip off market share from multiple product category leaders.
A single product company must outmaneuver these all-in-one competitors to survive. Also, newcomers need to be wary of customer acquisition cost (CAC), since established all-in-one solutions can afford to pay a premium to acquire customers given their potential customer lifetime value (CLV) is higher.
To give an example, InsideSales.com has successfully bundled its products; their current offering covers almost every pain that inside sales reps are facing. It would take three to five smaller products to provide the same service.
Force #3: Collision of data-driven and workflow-driven products
A truly helpful solution in sales enablement has to include both data and workflow. Most CRMs come empty, without any records or leads in the system. Salesforce addressed the problem of empty CRMs with its acquisition of Data.com (Jigsaw), and Microsoft likely bought LinkedIn to improve its CRM's competitive position by accessing LinkedIn's professional data.
1. Partnerships
Partnerships between data-driven and workflow-driven companies are common (Clearslide and Sendbloom, Datanyze and Outreach). It makes sense for both parties: having a tool without data is like having a Tesla without electricity, and visa versa.
These partnerships work best among category leaders so neither party feels it has drawn the short straw.
However, even those partnerships are risky for companies to maintain. What stops any company building the other end of the solution? And in this scenario, workflow-driven products are in higher danger since the barrier to building a tool is lower when compared to aggregating and polishing data collection algorithms. So the workflow side of this partnership might want to have a backup plan, just in case.
2. New entrants adopt a combination of data-driven and workflow-driven products
In order to compete the industry leaders, late entrants approach the market with both data and workflow solutions. Zenprospect is an example of a relatively new company that is using a bundling strategy to take on companies in multiple product categories.
These late entrants anticipated the shift in the market and started with solutions that combine data and workflow features from the start. An early startup with an all-in-one solution may not yet cause leading bundled, multi-product platforms to lose sleep. But specialized category leaders should consider them a major threat.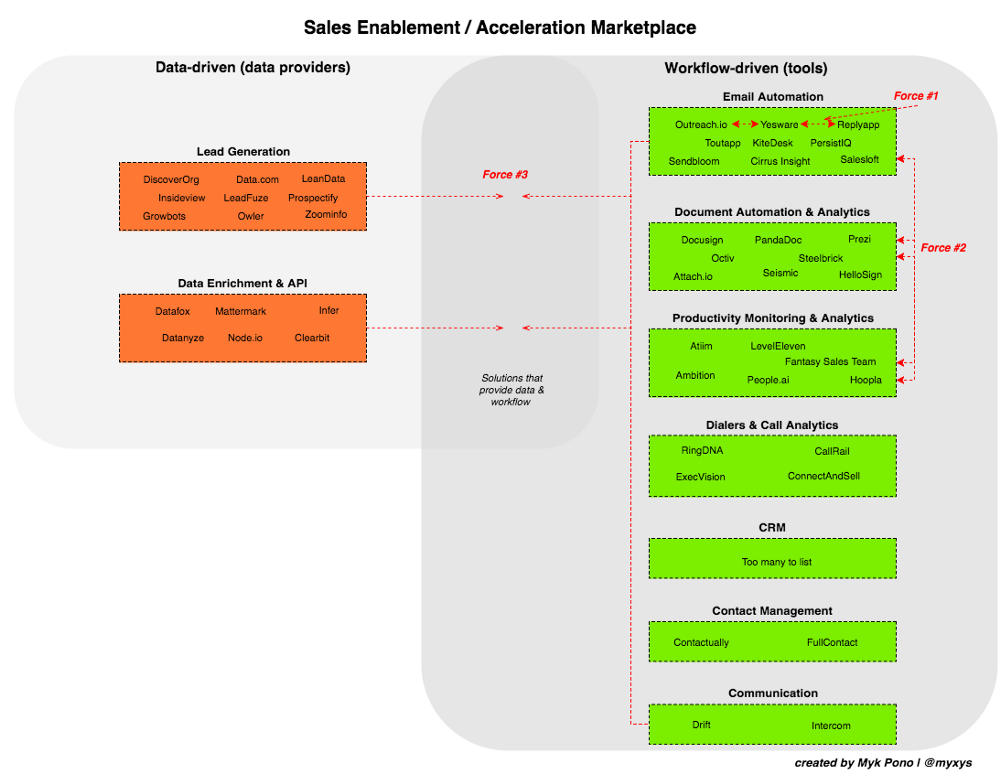 Above, you can see how the forces and markets overlap. (Note: companies are assigned to categories arbitrarily, for the sake of example. Some companies actually fit in multiple categories and there are no clear differences between them.)
III. What's this all mean?
1. Vertical solutions are more protected
Even with all the competition in the market, startups still have an opportunity to establish dominance in the vertical markets. (Clement Vouillon from Point Nine Ventures makes this case.) Yet CRMs are a little ahead of the curve in attacking verticals; for example, Veeva and Vlocity built successful companies focusing on specific verticals. This strategy creates a competitive advantage by focusing on customers with similar pain points and target customer personas.
Bundling can also be effective for companies that design products for a specific vertical. For example, companies could package email automation, document automation, quote-to-cash, and data enrichment into one solution optimized for, say, pharma companies, which have unique pains and needs.
Vertical segmentation is an underrated go-to-market strategy. While SaaS will continue to take over on premise software, some existing players will shift to a vertical approach.
2. New business models can help differentiation
Startups can also differentiate themselves by choosing a different business model. Here are a few business or pricing models that could shake up the sales enablement market.
As we discussed earlier, many players in lead generation and data enrichment categories still predominately sell raw data — raw leads. This whole business model is based on selling contacts which quickly become a commodity. The company that comes to the market providing unlimited free leads for every customer can gain tremendous competitive advantage in a form of data that customers are willing to share on the platform and in form of user growth. Elucify is one company that is currently trying to do this. The question is — with free leads, how would you make money?
If this company figures out how to attract a critical mass of users with its free leads, then it could build a marketplace by allowing any third party solution to build a product on top of their data and offer it directly to the users on a profit-share basis. (I argue that LinkedIn should have done this a long time ago.) So the company provides free leads, enticing its customers to share contacts to get access, which allows the company to accelerate data aggregation. When critical mass is reached, open the platform to sell third party workflow tools. Remember Zenefits offers free HR software and allows insurance companies to sell their services in the platform for a ~5% commission.
There are plenty of things that can go wrong here but providing free leads might be just enough to get some company rolling in this direction.
3. Leading brands will benefit most (invest in leading brands)
Category leaders and more recognizable brands with a higher market share will most benefit from this shake up in the industry.
First, leaders will be able to snap up good talent or technology at acquisition for a discount. That's because the more competition heats up, the more companies will be struggling to grow, the more opportunities for acquisitions of the smaller companies will emerge.
Second, well-known brands will become an even safer choice. SaaS prices are so low due to competition that the price incentive often isn't enough to justify buying a product from a company that might go out of business. The more rumors of troubled companies or actual dead companies we see, the more leaders will gain an unfair advantage.
Third, investors will consider industry leaders even better investments. As these companies continue to grow disproportionately and increase their market share, they'll have an easier time raising VC funding than the rest of the players. This capital will only accelerate the gap between those leaders and everyone else. And let's not forget the law of duality: "In the long run, every market becomes a two-horse race."
4. True context will be more valuable in sales
Many companies claim to provide contextual data to assist the sales process. However, most overpromise and underdeliver since true contextual data is near real-time and any solution that claims to provide it needs to have sufficient tools to act on this data.
The company that figures this out will have a bright future.
5. Bundling & platforms will continue to grow
Bundling will continue to offer a competitive advantage over single product companies. Platforms allow third party products to be built on top of it will also see a market advantage.
6. Technology may be able to completely automate buying decisions
Let's imagine how the sales process will change in 15 to 20 years. By then, salespeople won't necessarily have been replaced by machines. However, the amount of data that companies collect and analyze will have grown exponentially. This will lead to more targeted decisions, and will be felt in the buying process as well.
Instead of time-consuming research analyzing business needs, running proof of concept or demos, and looking over case studies and reviews, companies will be able to plug in their data and receive a recommendation on the best solutions for their set of characteristics, such as company size, industry, number of people, technologies, use cases, region, compliance needs, number of customers, growth rate, frequency of use, budget, product prices, and so on. In the same way that Forkable is automating lunch delivery based on our diet preferences and needs, why can't we reduce risks by automating buying decisions for enterprise solutions? The data should provide an unbiased way to pick the right solution for your organization.
Buying decisions always come with some job security risks, but products that provide automated buying recommendations based on corporate profile data can eliminate this risk as well.
The biggest challenge for an algorithm-led (or AI) approach is getting access to sufficient amounts of corporate data to recognize patterns that can predict how the product will fit the organization.
IV. Summary
The sales enablement market is arguably the most competitive SaaS market, and with so many current players, major shake up in the industry seems inevitable. Changes will benefit leaders in the form of market positioning since, over time, most markets become a two-horse race. The rest will be stuck on a slow ramp of death. Vertical solutions are better positioned to protect and gain market share against generic solutions. A different business model can provide a competitive advantage. It's likely that companies will stop selling leads and contacts given such data is largely a commodity with little room for diversification. Instead, companies will move to selling contextual data, and AI-automated buying decisions could create more focused and technical product differentiation. That's because the more company relies on AI-automated buying decisions, the less the product will be selected by subjective human opinion, but on objective company profile data.
---
If you like this article please recommend and share.
Follow me on Twitter, Medium, Quora, Instagram, connect on Linkedin. Join my Telegram channel - Marketing Journal - to discover interesting articles, books, and resources on marketing, product growth, startups, and SaaS.
Send me email with comments and questions: myk[at]myxys.com.
---
Read more: