How Datanyze Increased Organic Traffic By 200% in 5 Weeks (case study)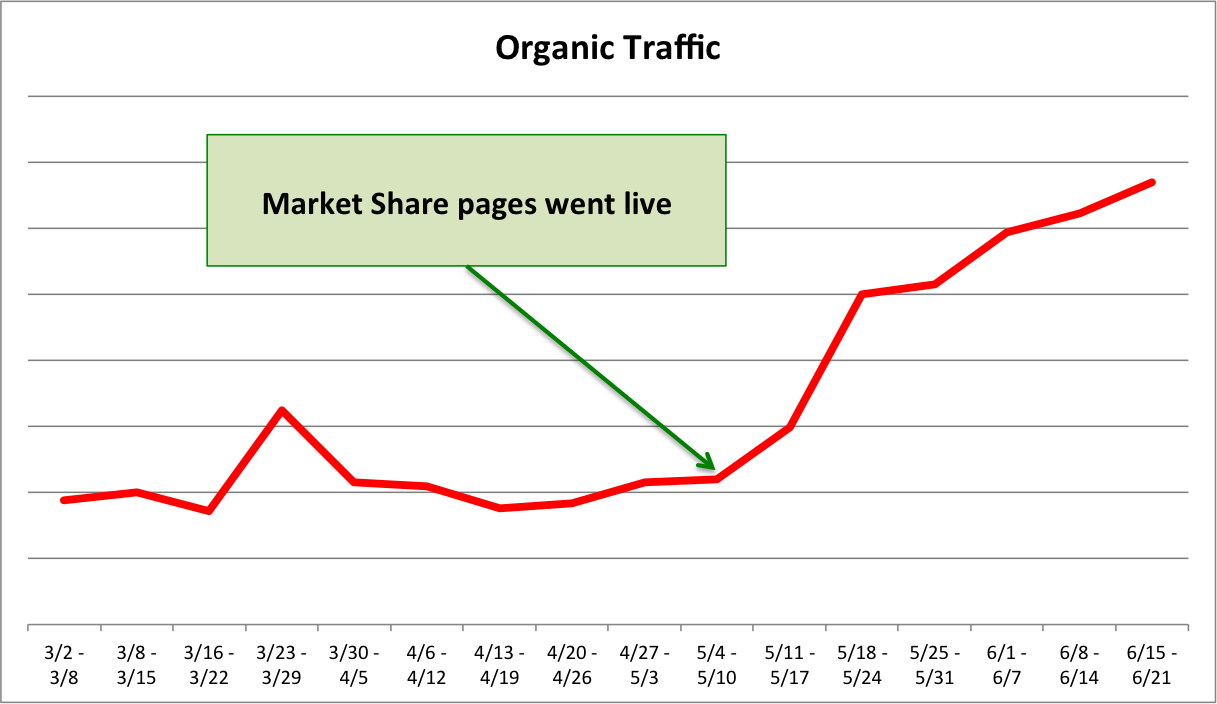 Incredible story of SEO success
Recently, I came across The Definitive Guide to Growth Hacking e-book which provides a great overview of techniques and strategies to grow users in more creative ways than conventional marketing. For my taste 'Growth Hacker' is far too fancy of a term but I'm glad that someone outlined how to approach user growth and marketing in tech, especially for startups.
As highlighted in this guide, SEO is one of many ways to pull customers back to your website and increase the user base for your product. Most are familiar with on-page and off-page optimization techniques but one of the most effective ways to increase your SEO traffic is to create relevant and unique content aligned with your core expertise.
Let me give you an example of the company that has done that successfully.
Sophos Threat Library
Sophos is security software company that focuses on protecting government, organizations, and large enterprises from cyber attacks. Early on, they created a Threat Library which acted as catalogue of all viruses, malware, and worms that Sophos antivirus was able to detect. Every new virus was added to the library as soon as it was discovered by as their security engineers. Over time, they built an enormous resource with over 50K pages. Majority of these pages ranked among top 3 search results in Google. Every time you search to learn more about a virus or malware the chances are high that you will end up on one of the Sophos Threat Library page. In addition, when a big virus outbreaks happen many industry bloggers rely on Sophos as a credible source to site. Media mentions such as these are priceless from an SEO perspective. The Threat Library is very successful not only in attracting targeted organic traffic but also in building a thought leadership profile for Sophos.
You may argue that I haven't provided concrete numerical evidence but let me show you how a bootstrapped startup tripled their organic traffic in 5 weeks. SERIOUSLY!
Datanyze Market Share pages
I was recently helping the Datanyze team with marketing and social media. Datanyze crawls over 15M websites regularly and analyses what technologies are used by companies on their corporate websites. They crawl a few thousand technologies and solutions and provide real-time data alerts when companies change vendors. This deep competitive market intelligence is unmatched by their competition. Our team had the idea to release data for each technology and company we tracked under a separate page.
Market Share pages were born. Here is the example of Eloqua Market Share pages — http://www.datanyze.com/market-share/marketing-automation/eloqua-market-share/

(update: Datanyze was acquired by Zoominfo in September 2018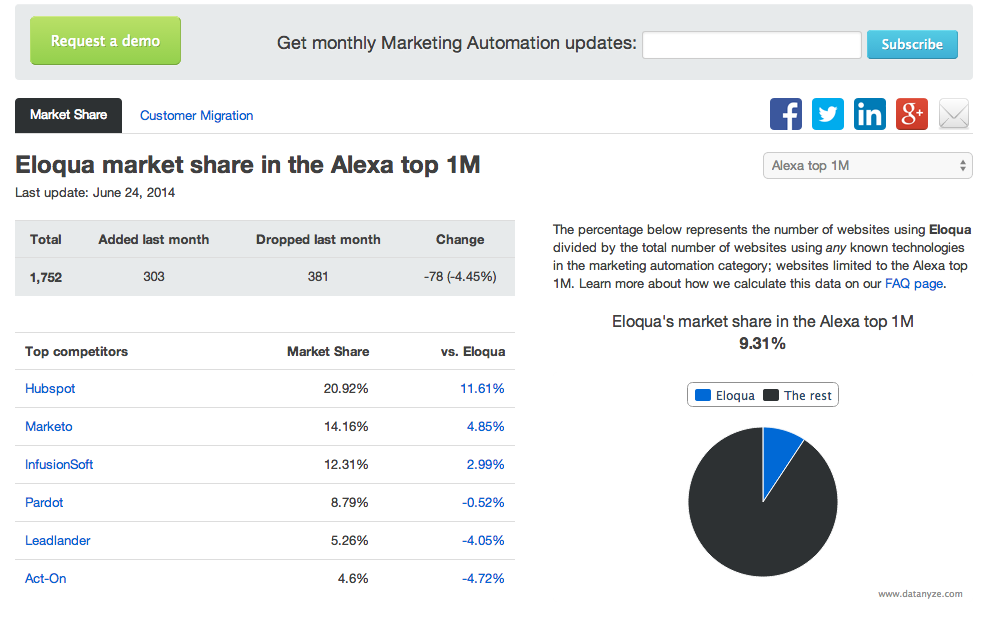 As you can see with the Eloqua example, market share pages provide valuable data for marketing and sales teams. Datanyze shows how many websites added Eloqua last month and how many have dropped them. It's easy to spot a trend on whether technology is gaining or dropping market share (at least based on number of websites that use it).
Note: All of the individual market share pages include a clear call-to-action — 'Request a Demo'. Do not overlook this lead generation opportunity.
Curiosity Factor
Market share pages play with people's curiosity. Every marketing team wants to know how their product competes on the market. We had a numerous instances when companies contacted us to discuss these numbers or argue whether we display correct data. This was a great opportunity for Datanyze to engage potential customers when they call to complain about our publicly accessible data.
Optimize for SEO
We optimized on-page factors for SEO. We created a formula based on highly searchable terms and updated thousands of pages by writing a script (here I have to give credit to Datanyze Founder and the only developer at the time — Ilya Semin).
Meaningful and unique page titles:
[Company/Technology] Market Share | [Industry] Market Share | [Company] Competitors — Datanyze
Using 3 unique keyword phrases for each page title provides best SEO results. With this page title we cover 3 main search terms — company market share, industry market share (ex: marketing automation market share), and competitors (ex: search terms — Eloqua competitors).
SEO-friendly URLs:
/market-share/industry-industry/company-market-share/
We used the formula above to automatically create URLs for each market share page. All technologies that Datanyze tracks are broken down into specific industries and we used them to optimize for broad industry search terms.
Unique Company Descriptions:
It is very time-consuming to write unique 200-300 word descriptions for thousands of companies. We took a shortcut — we posted a job on freelancing websites and received about dozen writing samples. We selected a great English-speaking writer who created over 300 unique company descriptions. Of course, we selected the most popular companies and technologies to begin with. It was very affortable and from ROI perspective a great investment.
Now, I'm sure you want to see stats, so here we go:
We started releasing new market share pages the week of May 4th — May 10th. Organic traffic had been relatively stable for the previous 8 weeks, but boomed during Jun 3-14 with an over 200% increase in just 5 weeks and is still growing consistently! This is pretty incredible.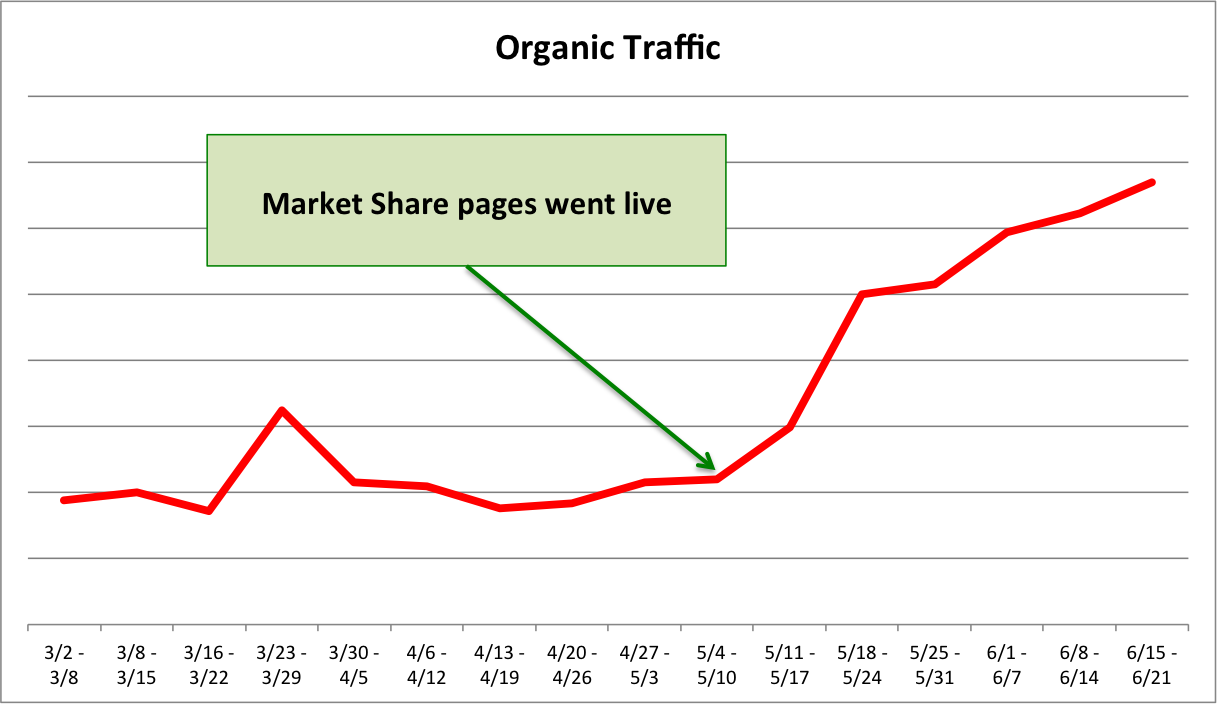 At the end, not every company has such opportunity but if you are serious about attracting consistent traffic to your website you need to look for creative ways to capitalize on your expertise. Build credibility with your prospects by providing them with information and data that can't be found anywhere else.
If your company develops product for product managers to build product roadmaps — maybe you can release statistical data about your customers along the lines of how long does average product release cycle lasts in particular company or industry? What is the average number of members in product development teams? How often do companies release new features and updates?
If your company provides crowd based application testing, ask your biggest customers to share average number of people that tested application or how many bugs and errors particular app fixed using your product or how many testing cycles particular application completed before release. All of this information will be very relevant to your target audience and will provide you with a great opportunity to grow your organic traffic.
Find a way to capitalize on your expertise!