NOTE: this article was originally published on May 10th before it was announced that Microsoft will acquire Linkedin for $26.2B. Not surprisingly, Salesforce was bidding to buy Linkedin as well.
---
Linkedin has lost an opportunity to take on Salesforce and become a true platform for sales enablement marketplace. Sure, the professional network is by no means on the brink of collapse as it still owns the most accurate and up-to-date data on professionals around the world. We're looking at a knockdown, not a knockout. At least, not yet.
Nonetheless, Linkedin stock is down 50% this year; the Q4 2015 report showed net losses amounting to 165M in 2015 as compared to 15M losses in 2014 (Q4 2015 Report). Revenues for the professional network come from three business lines: talent solutions, marketing solutions, and premium subscriptions. Talent solutions is by far their most profitable business, bringing in around 62% of the total revenue. Marketing solutions and premium subscriptions generated 21% and 17% of the total revenue, respectively (Linkedin blog).
---
But before we discuss what Linkedin could have done (and still can do) to accelerate growth and eat from the Salesforce's plate, let's look closer at its three businesses.
The core business relies too heavily on external factors
Talent solutions is by far the most profitable business for Linkedin. Much has been written about how heavily the core business area relies on users to keep their Linkedin profiles up-to-date. Not even Linkedin employees feel the need to update their professional profiles regularly.
Sharing trends and a lack of focus limit the growth of content business
Linkedin wants to focus on marketing solutions such as sponsored posts as a means to generate more revenue. However, more often than not, the Linkedin feed resembles an uncontrolled flow of information, quite similar to what you'll find in your Twitter feed.
Unlike Facebook, which wants to participate in all aspects of social interaction for its users, Linkedin remains a solution for professionals and is used mostly during work hours. People don't have the time to spend scrolling down the feed looking for gems. What's more, the time you invest in browsing your Linkedin feed is not always rewarded with valuable information. Great articles are buried under layers and layers of "me-too" junk content.
And besides, you can follow people whose content you want to see and receive notifications for every article published. These notifications also reduce the user's reliance on the feed to receive information.
So, while revenue from sponsored posts shows a significant growth of over 30%, its growth is mostly due the sheer increase in volume of shareable content. Soon enough, advertisers will realize that even precise targeting (based on titles and company size) won't save their content from being buried under a pile of trash.
The Linkedin feed has a Twitter feed problem.
There's another trend that doesn't play in Linkedin's favor — the line between personal and professional life continues to blur. We share more professional content on Facebook, and we notice more personal content in our Linkedin feeds. With the Linkedin feed growing more and more cluttered, people find it more productive to follow industry experts on Facebook.
Have you noticed more posts on the Facebook related to your friends' professional lives? Certainly, I have noticed this change. So instead of following someone on Linkedin, users find it easier and more convenient to follow industry experts and thought leaders on Facebook.
The premium subscription business is under pressure
Premium subscription is mostly acquired to establish personal brands or to get access to the wider pool of profiles and features.
But the requirement for users to upgrade profiles to access more connections is becoming less attractive. Finding someone's direct email isn't a problem when thousands of sales enablement companies are ready to deliver this data for very cheap.
Linkedin messages also have a spam problem, which diminishes the appeal of building a sales process that relies heavily on inmail and premium subscriptions.
Linkedin messages fall on deaf ears.
I should also mention that as sales strategies shift to account based selling, finding emails for 30 target prospects using Google sheets and Rapportive add-on for Gmail isn't as time-consuming. The need to upgrade your profile on Linkedin is greatly reduced.
And have you noticed Angel.co quietly rolled out connections on its platform? Angellist distracted everyone with its focus on becoming an investment platform, and we missed how they have been slowly moving into Linkedin's territory of professional networking. As it stands, sales reps Increasingly use Angel.co to research targeted accounts and appropriate decision makers.
Linkedin blew its chance to take on Salesforce
Linkedin lost the opportunity to transition from a professional network to a full scale platform. It still owns the most accurate and fresh data on over 400M professionals, but it lacks tools and infrastructure to unlock a real value from an massive pool of raw data.
Salesforce has infrastructure and functionality; Linkedin has data
Even though Salesforce has diversified its product line to marketing cloud, data solution, customer support and success, Salesforce CRM is still its core product, which acts as a platform connecting other products.
Its CRM provides deep functionality and often takes significant resources to get companies started. But if you just implemented Salesforce for your organization, you began with a clean sheet, and no customer data is available to you. With the Data.com acquisition Salesforce tried to bridge this gap, but anyone who used data.com can tell you that the lead data is far from being up-to-date or even accurate.
Salesforce without data is like a car with no gas or like Tesla with no access to electricity.
Salesforce has data accuracy issues
You will have a difficult time finding a Salesforce customer who hasn't complained about data accuracy or duplicated leads. This is a tremendous headache for organizations. How do you make sure a lead that used personal email is assigned to a sales rep who works on this account already? The success of lead nurturing, account based sales, and marketing all depend on accurate lead data and tracking.
The whole pool of products was build on top of Salesforce just to solve the problems of lead duplication, data accuracy, and enrichment.
Linkedin has what Salesforce is desperately missing — accurate and fresh data.
The Platform Canvas, developed by Sangeet Paul Choudary, helps us visualize how Linkedin and Salesforce differ. Linkedin has a tremendous advantage in the network/community layer of Salesforce, which enables it to build a sizeable personal data on its users. But Linkedin lacks infrastructure or more specifically tools that will use this data to capture Salesforce customers.
Platform canvas comparing Linkedin and Salesforce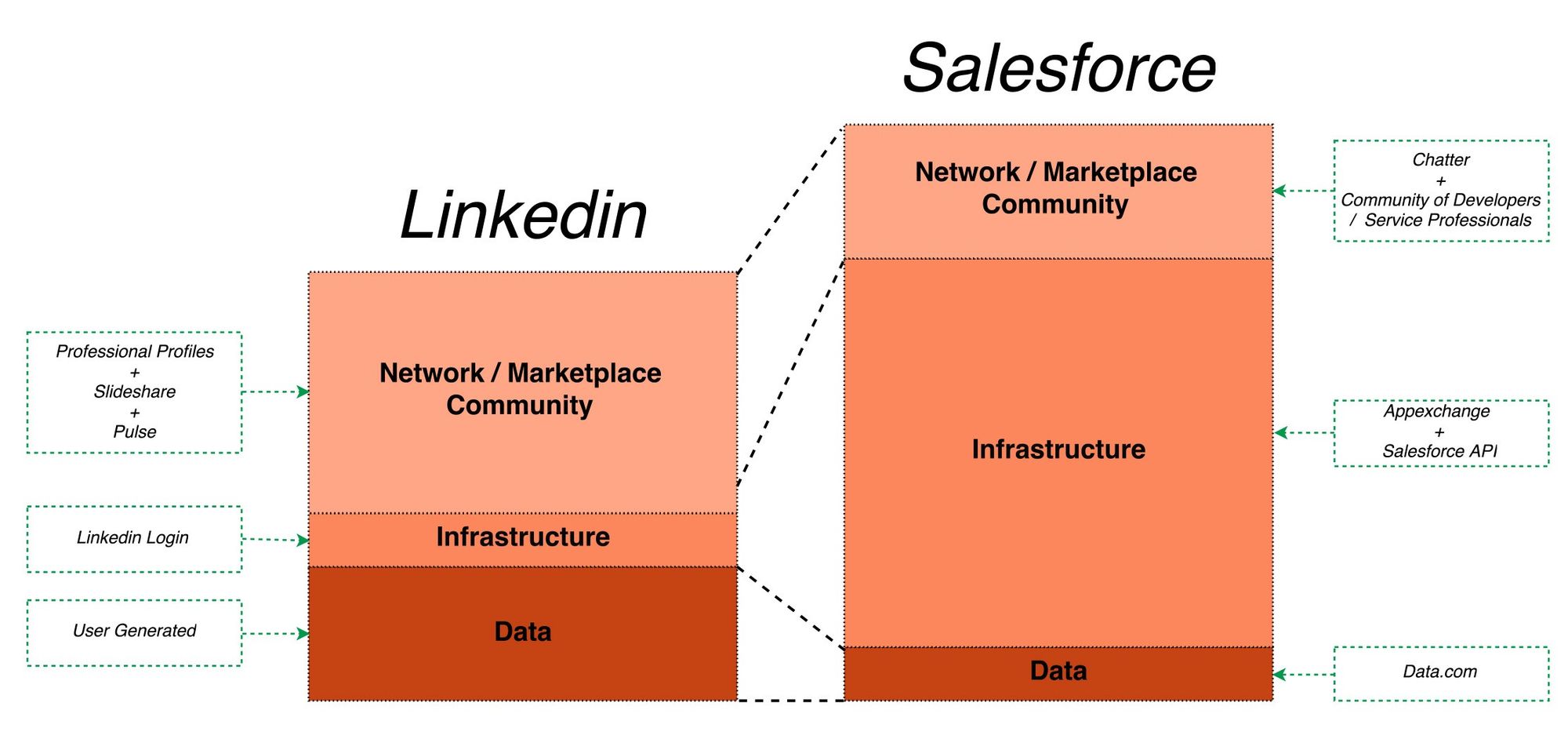 Open API can boost Linkedin growth as platform
Salesforce has tools, and Linkedin has data. Now, what is the easiest to replicate? If you look at how competitive the CRM landscape has become, the answer is obvious — building a tool is far easier. Linkedin can make its API more open and accessible to third-party developers. This move will boost SaaS companies in the sales enablement market to build on top of its platform. As it goes with the App Store and Google Play, Linkedin needs to be open and clear about the rules of the game.
Shift to platform business model
Linkedin will be able to instantly charge a percentage of revenue generated by the products using its API. Companies that are relying heavily on build Chrome extensions to export Linkedin data will be at a disadvantage if they don't move to the platform. Linkedin can take a cut of these transactions.
New revenue streams
The move to a platform business model by expanding the infrastructure layer will allow Linkedin to do more than generate a new source of revenue. It will also help many companies in the sales ecosystem move away from Salesforce. Think about it — would you choose an empty Salesforce or SugarCRM that's very comparable on functionality but also connected with Linkedin API to maintain data accuracy and freshness?
Acquisition opportunities
The platform shift in Linkedin's business model will also bring unique opportunities to grow and buy promising startups, which already integrate well with the platform to further scare the hell out of Salesforce.
Take another very busy niche in the sales enablement marketplace — outbound email solutions, with companies like Outreach.io, Sendbloom, Yesware, ToutApp, ReplyApp, and many others. Why wouldn't Linkedin give them access to their data layer? For outbound email solutions, it is a great opportunity to reach larger markets as well as integrate contact data into their existing solutions. Linkedin, on the other hand, can ask for a percentage of revenues and learn data on open rates to enhance their user profiles.
As we discussed, Linkedin wants to double down on content solutions, which improve its position as a content platform for professionals. Why not allow startups to experiment with building an email newsletter solutions on top of Linkedin's social graph? After, email newsletters are one of the most effective strategies to build an audience.
Linkedin missed a great opportunity (about 2–3 years ago when sales enablement SaaS companies were growing like wildfire) to build its ammunition and take on Salesforce market share.
How long can Linkedin survive as a tech darling before becoming the Yahoo, Twitter, or Monster of this generation?
Undeniably, Linkedin has an advantage over Salesforce when it comes to network and data layers, but the growth of both areas are limited by a lack of infrastructure to fully capitalize on the enormous data available.
Its current businesses are under immense pressure. Linkedin needs to take actions to transition itself into platform business model, and opening API is one of the steps in this direction. While Facebook was preparing to reach flatter patterns of user growth and decline in original content sharing, Linkedin completely miscalculated the impact of these forces on their network and as a result was completely unprepared for this shift.
Maybe Jeff Weiner has different ideas on the future of Linkedin, but it seems the perfect timing to open Linkedin API for third party developers was a few years ago. Do you see any other way for Linkedin to stay relevant other than shifting to platform business model?