Chapter 3: Show, Don't Tell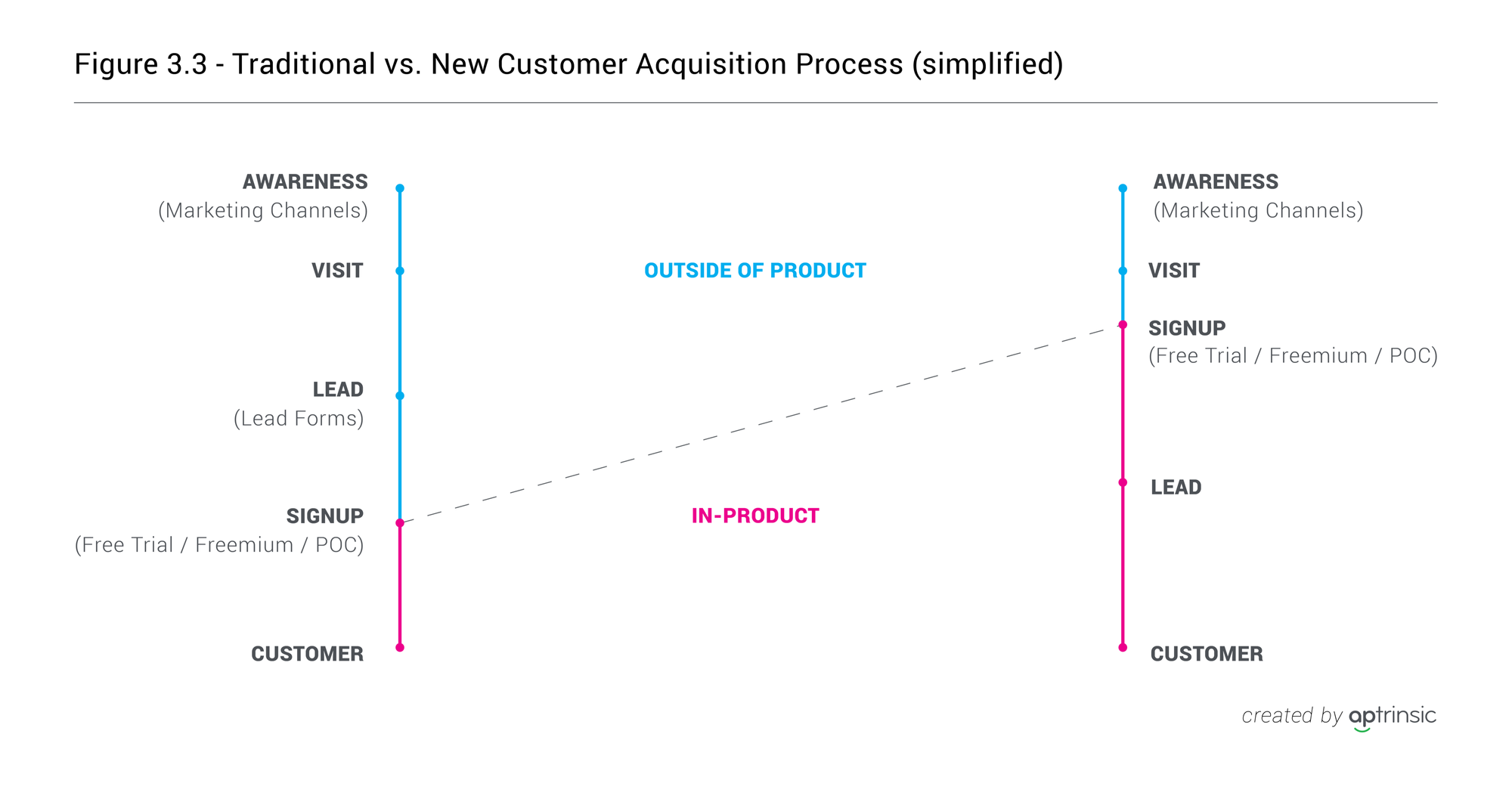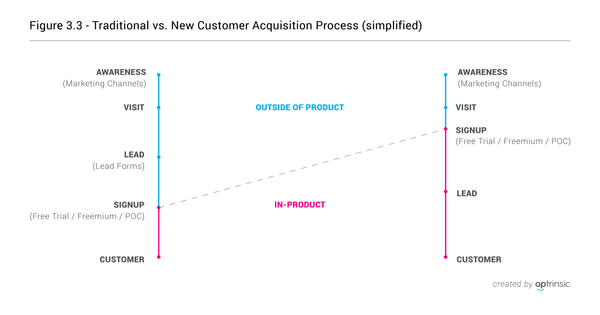 Nurture and Personalize Based on Product Usage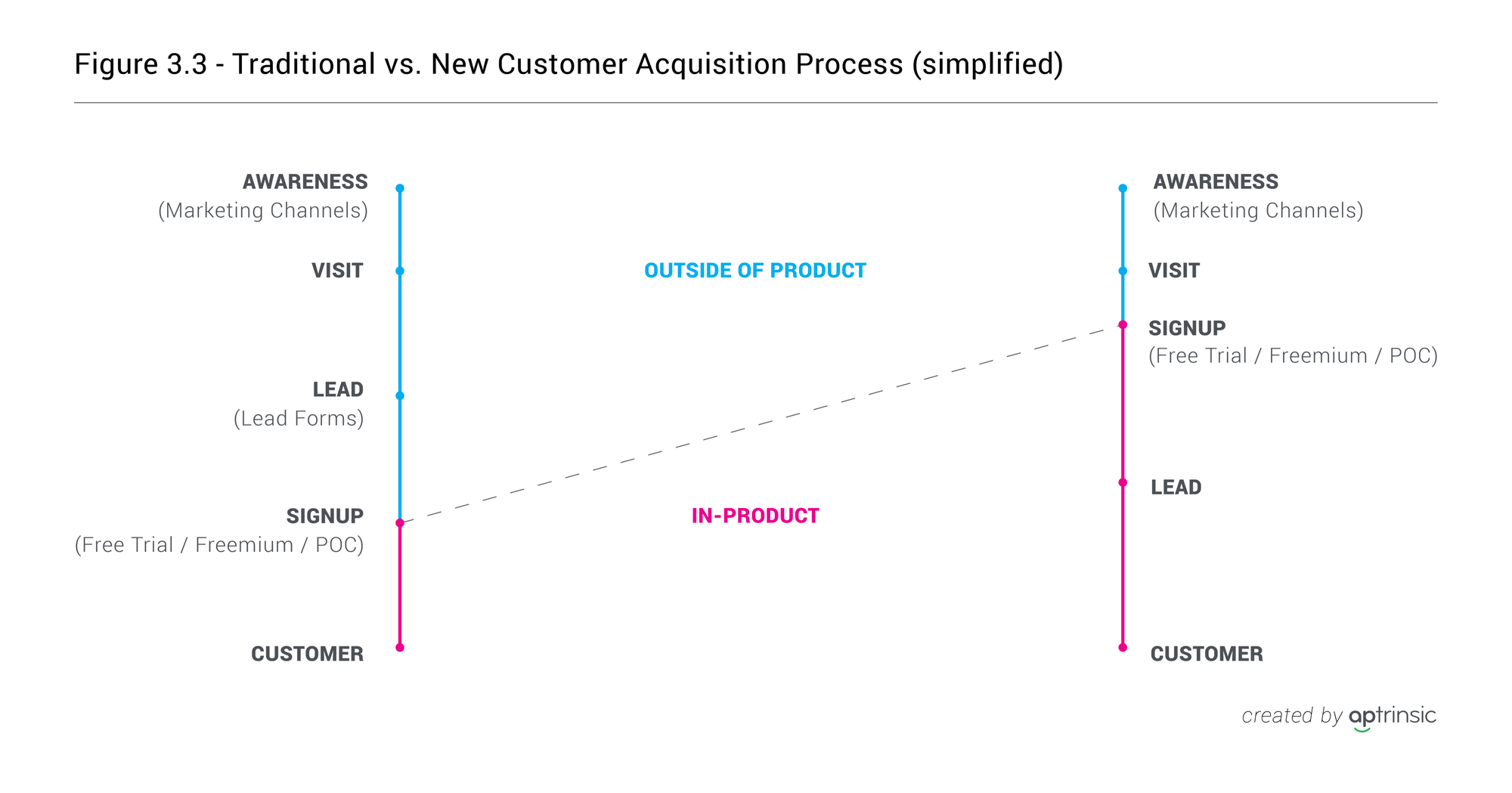 SaaS companies must commit to boosting their customer experience to survive. A personalized customer experience is difficult to achieve for multiple reasons. Companies must change how they think about customer experience, then redesign their organizations, policies, GTM strategies, and customer acquisition processes. Furthermore, this transition requires a strong understanding of the customer lifecycle, buying process, customer journeys, customer demographics, and behavioral data.
In this chapter, we cover six essential steps for evolving to become an experience-centric organization:
First, let's see how the customer acquisition process is changing.
3.1 The Buying Process Outweighs the Sales Process
Before the SaaS revolution, enterprise software companies were predominantly sales-driven, with the company speaking at length with a sales rep to get product information. The high-touch sales model was warranted, since customers were required to sign long-term, expensive contracts.
The subscription economy — with lower prices, ownership, and switching costs — has changed the customer acquisition model. Companies made educational and product-related content more accessible to prospective customers as they searched for more efficient ways to generate product awareness and demand. Prospects could then find, learn, and compare software products earlier in the buying process, way before they interacted with sales. In this way, content marketing and lead generation were established as primary strategies for companies to generate awareness and demand.
The rise of content marketing and lead nurturing brought us marketing automation solutions that promised, among other things, to calculate content marketing ROI. (Lead nurturing is a process of continual communication with a prospect until he or she is ready to buy.) The new marketing-led approach to customer acquisition promises to close the gap between marketing and sales. Marketing teams generate and nurture leads, while sales teams focus on prospects that are aware of a product and the problem it solves. A marketing-led approach has made SaaS companies far more efficient and effective. Eloqua, Marketo, and Hubspot are the most well-known examples of marketing automation companies that popularized a marketing-led strategy. When it comes to content marketing, Hubspot and Marketo set the standard. The amount of content created by these companies is startling.
Today, prospective customers progress far along the buying process before talking to sales, making content strategy a given. Content marketing helps prospects recognize the problem and need for the product while empowering them to evaluate alternatives and create a shortlist of potential solutions. Through content, buyers in the enterprise software market become more knowledgeable about industry products and trends. By the time your sales team interacts with a prospect, you can expect the prospect to have formed a perception of what your product does and available alternatives.
3.2 Why Traditional Customer Acquisition Falls Short
As business buyers, we often reach out to our professional and social networks for advice, or to simply ask for product recommendations. We read thought leadership content to learn about new ideas, expertise, and trends that are relevant for our decision-making. When we land on the website, we often are forced to share our contact information through lead forms in exchange for content, and then receive marketing e-mails notifying us about a new whitepaper, report, or webinar. As we come back and engage on a company's website or through e-mail, we receive calls from a sales development team whose job is to assess our level of pain and fit — and only then are we given access to a free trial, or guided through a proof-of-concept process. This is what we refer to as the traditional acquisition process.
Figure 3.1 shows a simplified version of the traditional customer acquisition process for SaaS companies as described. This is not a universal process, since not every company gates its free trial, and not every company provides one. Furthermore, there is a whole journey that companies have to design after a prospect becomes a customer. Nonetheless, one thing should be clear: a large part of the customer acquisition journey in the traditional customer acquisition process happens outside of the product.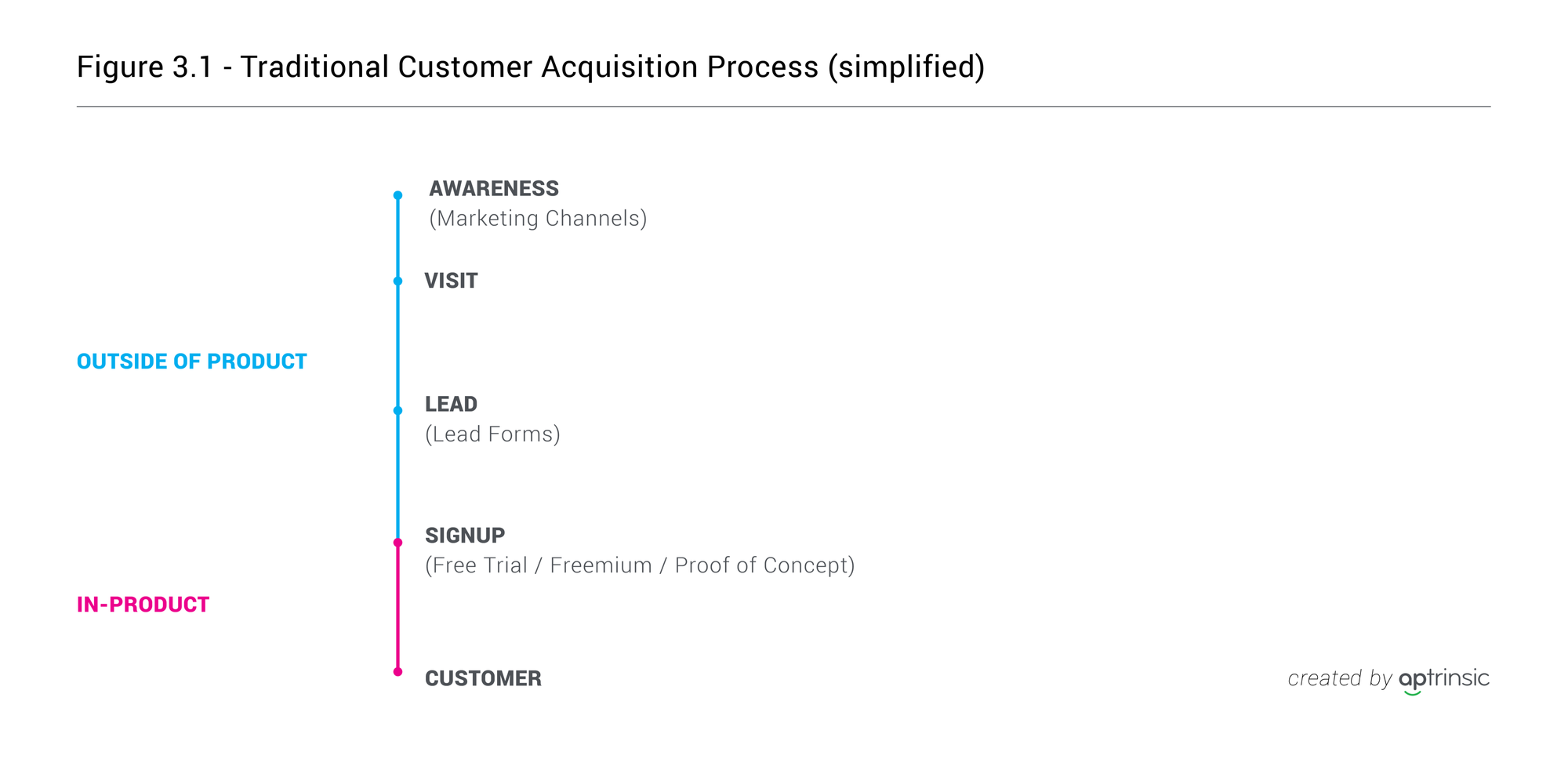 Why isn't this approach very effective? Prospects are forced to fill out lead forms in exchange for content, or submit requests for a demo, and talk to a sales rep before accessing a free trial. In the consumer industry, the buying process rarely involves interaction with a company representative, and often just includes a self-service option. Enterprise buyers want the same frictionless experience in their professional lives. As a result, they are no longer willing to wait and jump through lead forms to try your software; they can — and will — turn around and try a competitor's trial instead.
And how can you blame them? Who wants to receive e-mails about your next webinar, or from your sales development rep asking for a quick chat to learn whether the solution is a good fit for you?
Another key reason why the traditional customer acquisition process isn't effective: It focuses more on the behavior of prospective customers outside of the product, rather than on in-product behavior. Think about the correlation between downloading a whitepaper, opening an e-mail or visiting a website, and the buyer's intention to purchase a product. Lead scoring in enterprise marketing was created to show that the leads they pass to sales are of a high quality. But can you truly say with much certainty that these buyer activities strongly indicate an intent to purchase?
Let's look at this process through the example of a consumer walking into a shoe store. Imagine that you have to talk to a sales clerk in front of the store and share your e-mail and other contact information just to walk in. Would you consider this a good customer experience? Additionally, who do you think shows a higher buying intent: someone who just walks around the store, or someone who stops to feel an Asics shoe or who asks to try a pair on?
3.3 Getting Personal is Paramount
SaaS companies that want to deliver great customer experience should pay close attention to these scenarios. In the SaaS world, a stellar customer experience depends on how well companies understand their behaviors in the product. Organizations that make it hard to evaluate and try their product irritate prospective customers with a subpar experience. Perhaps even worse, they limit their growth potential because they lose the opportunity to learn early on how customers interact with their product.
There is no better data for organizations to build a personalized customer experience than data that uncovers how prospects interact with their product.
Allowing prospects to sign up and try a product improves customer experiences, and provides teams with relevant behavioral data that helps them further personalize the experience — and that ultimately yields a loyal customer and higher lifetime value.
3.4 Buyers Want to Go It Alone
Research supports the idea that buyers want an easier way to evaluate and buy software products. According to Forrester Research, 59 percent of B2B buyers prefer not to interact with a sales rep, and 74 percent find buying from a website more convenient. It may be too early to talk about the "death of a (B2B) salesman", but this data suggests a growing trend toward consumerization in business markets. The same way content marketing empowered prospective customers to self-educate, self-service allows them to evaluate a product. That's why more SaaS companies are moving toward free trials or a freemium model as starting points for engaging prospects.
Customer expectations could be summarized with an old saying: "Show, don't tell." In other words, "Don't tell me how great your product is; let me try your product and judge for myself."
3.5 Customer Experience Requires a New Way of Thinking and Acting
SaaS companies that want to succeed are embracing a new customer acquisition process. This involves providing the immediate option to sign up for a product freemium or free trial. Marketing, sales, customer success, and even product teams can then learn more about their prospective and existing customers through in-product interaction, allowing them to better personalize the experience.
Figure 3.2 shows how companies are changing the customer acquisition process by providing early access to their products. Again, let's point out that this is in no way a complete view; we will explain this process in more detail further in the book. Notice though, this new process flips the order of how companies interact with prospective customers. Successful teams put in place strategies that reduce the time from when a prospective customer lands on the website to the time the prospect signs up to use the product. These teams invite prospects into a proverbial store, limiting the barrier to entry by making the front door larger, always open, and welcoming.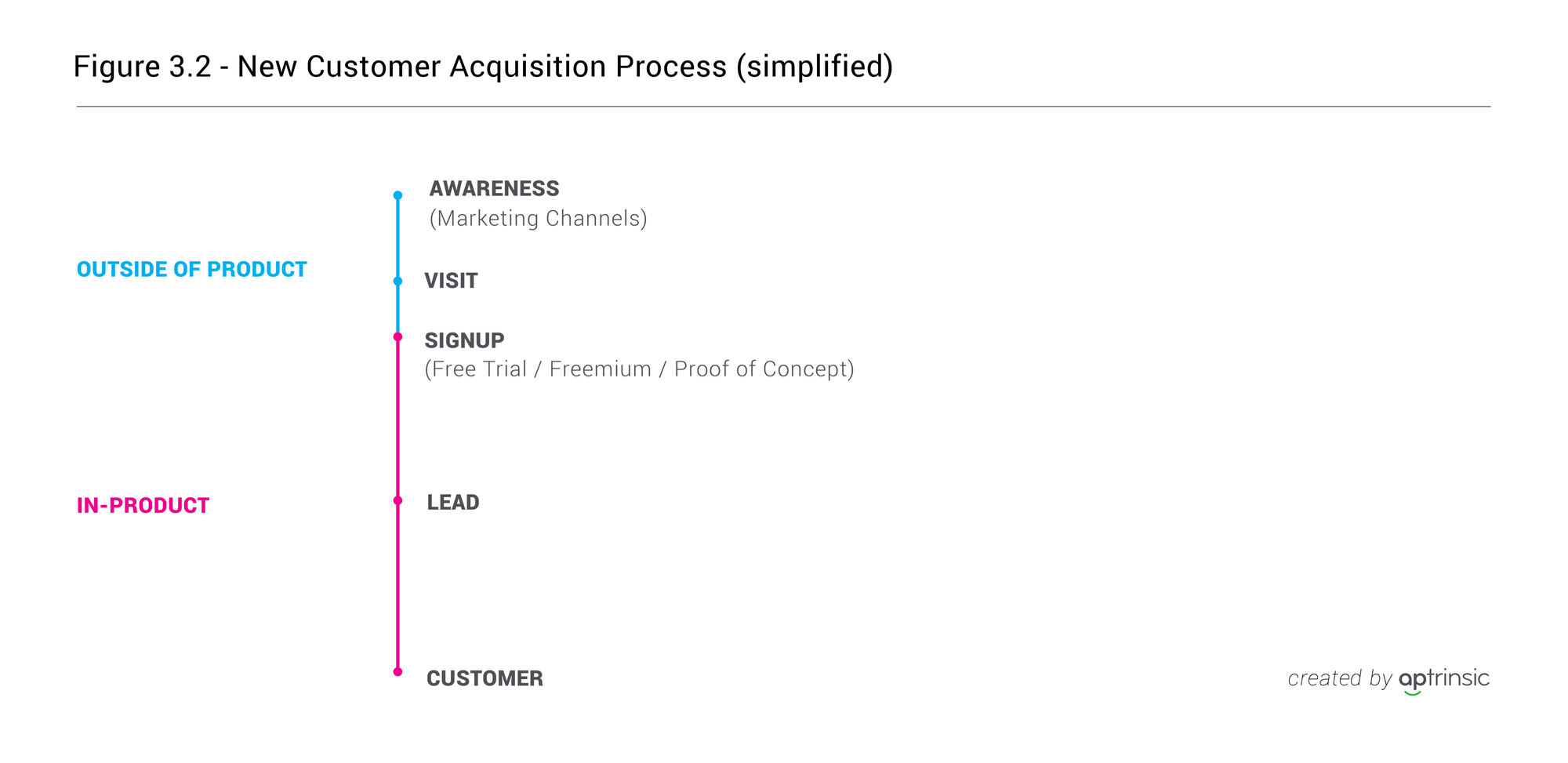 Using the store analogy, a sales rep in the shoe store can notice who exhibits more interest in what style of shoes, and then can offer help when he sees a customer pick up a shoe in the basketball section. It's not going to take long for consumer companies to personalize messages and ads. These could highlight relevant offers in the store and even lead someone to a specific department in the store based on that person's previous purchases. A text message might inform the customer that the shoe he tried but did not purchase last time is now on sale.
While online-first businesses — and enterprise SaaS companies in particular — use a different business model, they can call upon many technologies that enable them to personalize the buying process. Let's look at some very successful companies in the subscription era that led their customer acquisition by providing a free trial or freemium.
3.6 Embracing a Bottom-Up Sales Strategy
A great example is Trello, which offers a web-based project management solution. The team behind Trello grew its user base and revenue by providing a freemium option. The company targeted individuals in a professional setting, providing an easy way for them to try and purchase the product. In just six years, Trello passed 19 million users, and was later acquired by Atlassian for $425 million. It's difficult to judge how much behavioral data was used by Trello teams to personalize customer experiences; and, of course, being a lightweight product with mass appeal made it easier to spark viral growth through a freemium offering. However, even tracking user adoption over a large set of users could be extremely valuable to a product team wanting to prioritize what needs to be built to accelerate growth.
Asana, the task management SaaS company, is another example of a company that brings customers inside the product sooner. Similarly, Zoom.us, the video conferencing solution, promotes only one call to action on its website: "Sign Up Free." Do you know what you won't find on the Trello, Asana, and Zoom websites? Lead forms. "Sign up" is the only door to enter the store, so to speak.
Trello, Zoom.us, and Asana drive customer acquisition with a bottom-up sales strategy, thus getting individuals in organizations to use their products first; and if the product is valuable for them, the rest of the organization is more likely to adopt it. Managers will be more inclined to subscribe to the product across the entire company when a large portion of employees are already using it. The success of this strategy requires companies to design customer experiences that make product adoption quick and inexpensive. This is what we mean by consumerization in SaaS: companies focus on showing value to individuals first, instead of selling products to managers or decision-makers who won't be using it on daily basis. It's worth noting that the freemium model isn't optimal for every company. Later in the book, we will discuss freemium and free trial models in more detail.
SaaS companies that understand customer expectations and experience are shifting to a new customer acquisition process. The goal is to reduce the time it takes, as well as the friction involved, for a buyer to try the product. This shift refocuses organizations to nurturing and personalization strategies that rely more on customer behaviors in-product. Figure 3.3 presents the comparison between the old and new customer acquisition models.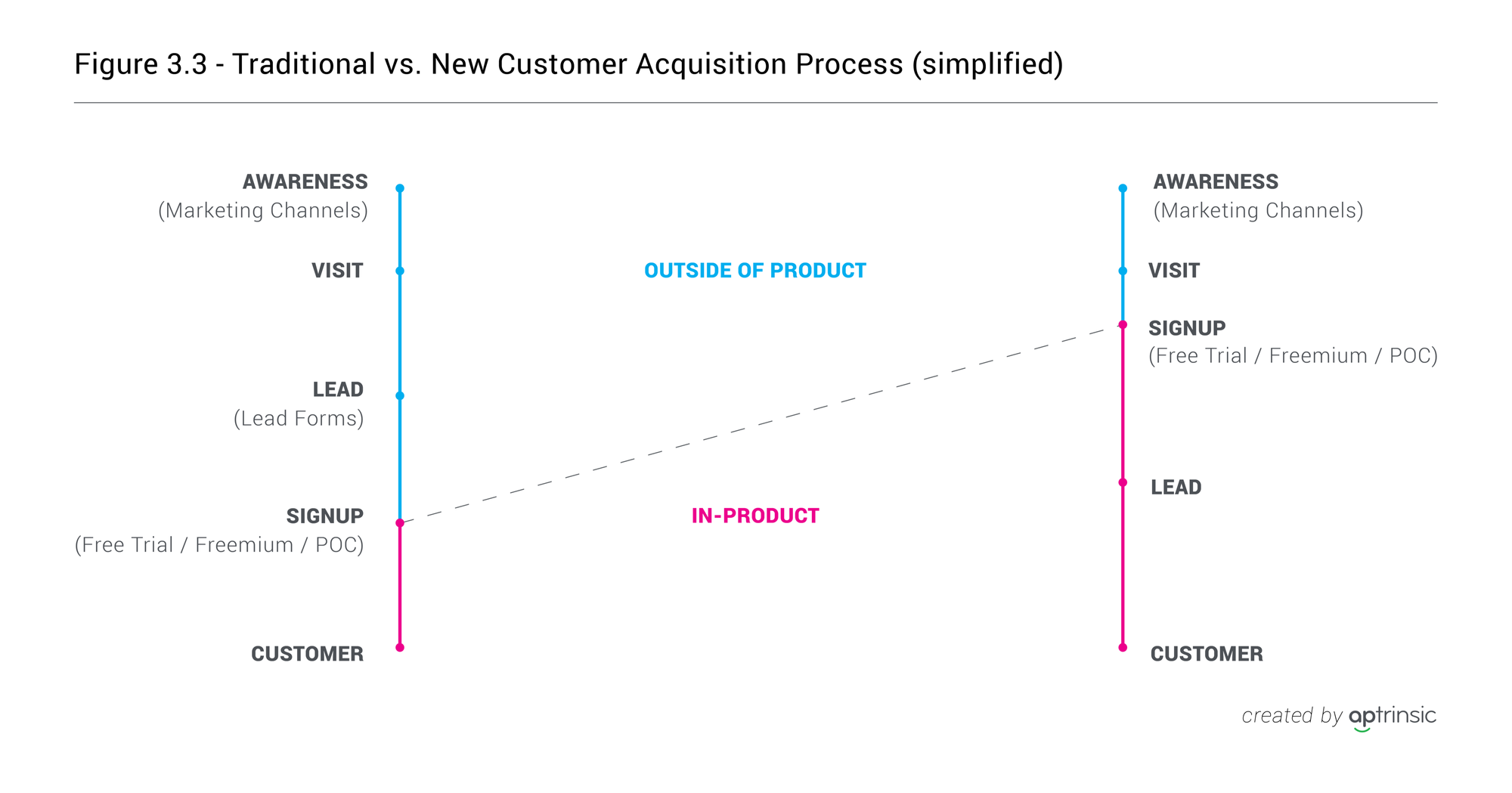 Another important difference: Companies that use the new customer acquisition approach can more confidently define a promising lead, because they base the determination on in-product behavior, rather than on the prospect's engagement with marketing content.
We already mentioned that this new acquisition process empowers teams to better personalize customer experiences and journeys. Prospects share important data with the company during the free trial, which the company can use to guide these prospects to realize initial product value. Companies can even use this data to entice those to come back and pick up where they left off using the product.
In the traditional customer acquisition process, companies rely on segmentation as the guide for personalizing the buyer experience. This is based mostly on demographic data about the prospects, firmographic data about their companies, and marketing behavioral data, such as what content was downloaded. The new customer acquisition strategy empowers teams to add significant in-product behavioral data to the formula, so they can guide prospects through even more personalized journeys — and ones that actually occur in the product.
Finally, let's not overlook the fact that in-product behavior can be insightful for marketing teams to improve the ROI of marketing campaigns. Sales teams can prioritize and focus on leads that are already using the product. The customer success team can understand where prospects are facing difficulties in using the product, and product teams can make more data-driven decisions on what features to build and what updates to release next.
In fairness, some enterprise software companies find it expensive and ineffective to offer a free trial or freemium; we cover these cases in Chapter 4. However, even SaaS companies that sell more technical and impactful solutions with higher price tags acknowledge the need for an easy, painless way for teams to try their products.
Zendesk and Splunk, for example, offer free trials. While a free trial removes some friction, Splunk still asks lots of questions during the free trial signup journey. We believe the trend of reducing barriers for business customers to try a product will accelerate as SaaS moves toward consumerization. We can hear the revolution on the street with slogans like "Show, don't tell. Let me try!"