Content Strategy: How to 10x Your Content Performance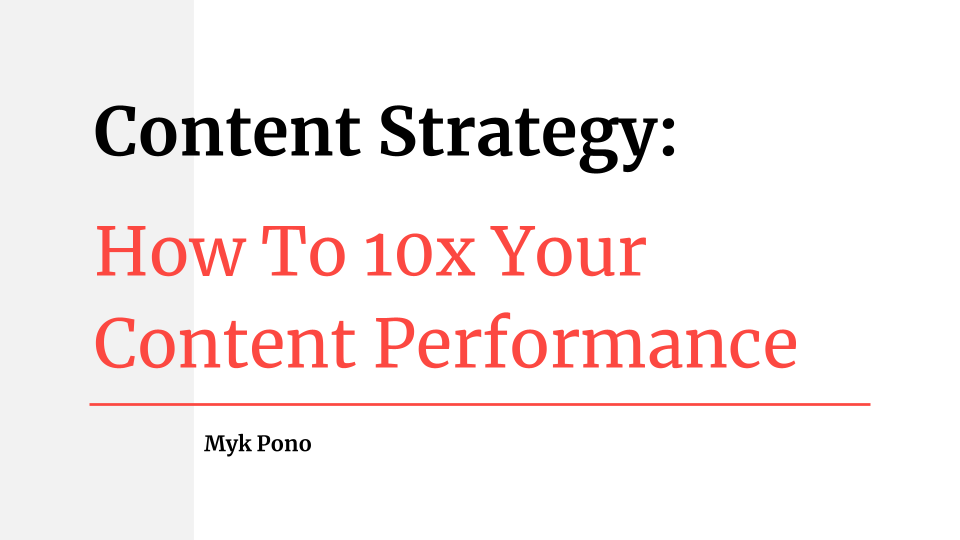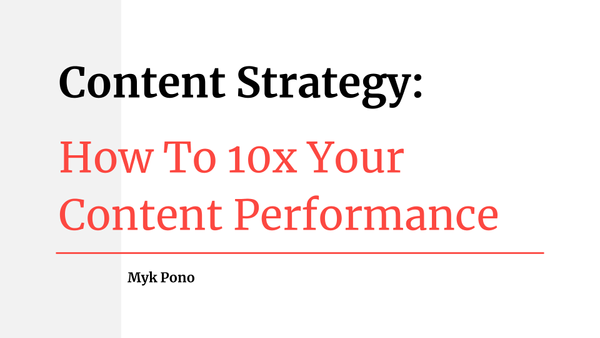 A great product is easily lost in the sea of internet distractions vying for attention. It's not enough to simply build something and launch it. Brand identity - who you are, what you value, and why - is what attracts people to your business and what makes them stick around. It's what makes a customer trust you.  
David Cancel, CEO of Drift summed up today's business climate when he said, "Today, you are not going to win on product features — you have to win on brand."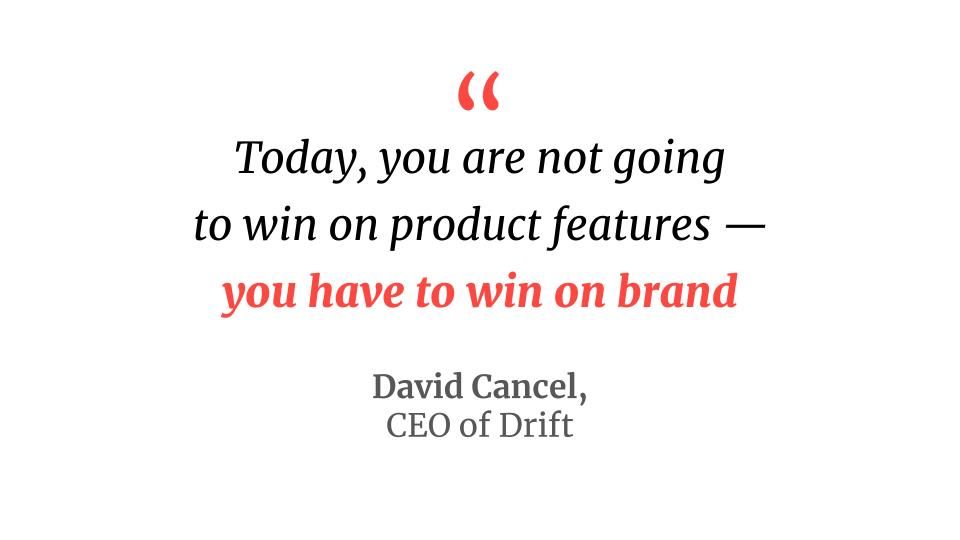 In order to build an effective brand, you need to invest in quality content. Just look at all the blogs, eBooks, podcasts, and other content being produced by companies daily. This content is the foundation of what is known as the "content economy."
In B2B markets, the average buyer progresses more than 70% of the way through the decision-making process before engaging with a sales representative. In 57% of cases, the purchase decision is made even before the customer calls the supplier.
What's more? The average person consumes 13 pieces of content before making a purchase decision. That's a significant amount of time spent getting to know a company through its voice, opinions, and expertise.  
If you aren't investing in quality content, then prospects will get advice from your competitors. They'll be the ones reaching out when you could be building those relationships.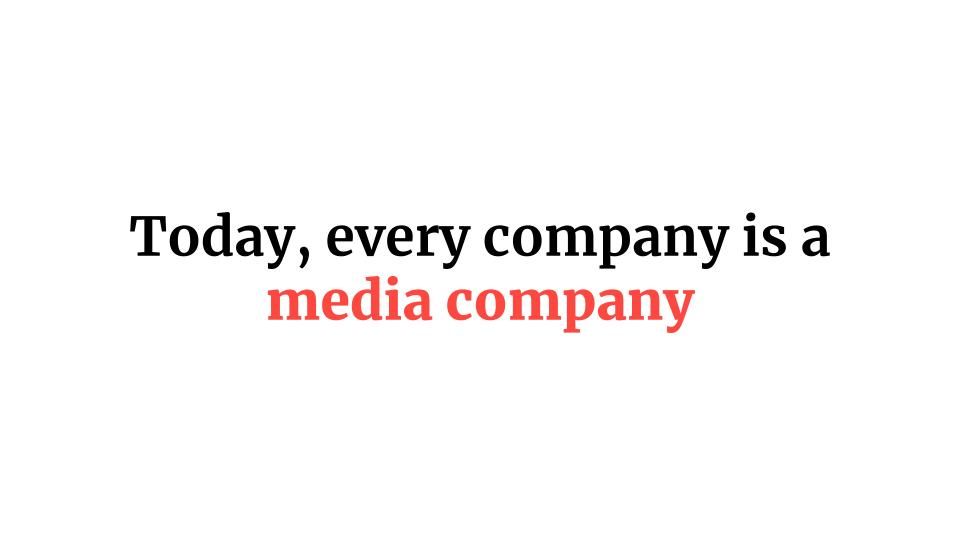 In order to succeed in the content economy, you need to develop comprehensive content creation and distribution strategy. This isn't an either-or proposition. Great content is worthless if nobody reads it. Conversely, you can have a large audience, but they won't want to hear from you unless you're adding value to their lives and work.
Creating a content strategy might sound like a difficult task, but its rewards are worth it. You'll create lasting connections with customers all over the world, and establish your brand as a leader in an endlessly competitive field. By following this actionable 10-step strategy, you can develop a content pipeline and distribution strategy to drive long-term growth for your business.
People-first content production
A successful content production process requires you to do more than write a few lines about a topic relevant to your business. You need to understand your target audience on a human level and create content that addresses their hopes, desires, needs, and pains.
Choose the right target audience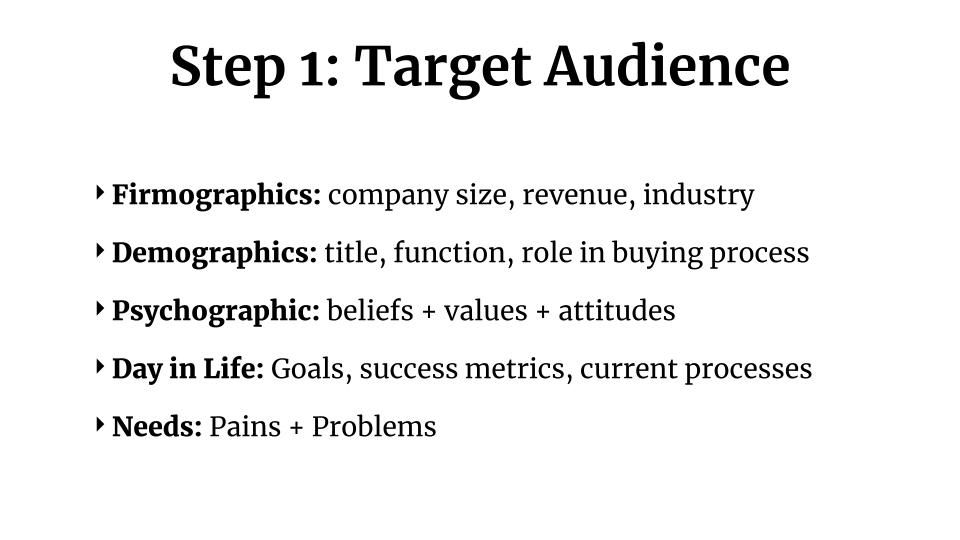 This is where audience personas and ideal customer profiles (ICPs) come into play. There are plenty of ways to approach developing these documents, but at a minimum, they should contain the following types of data:
Firmographic: company size, revenue, industry
Demographic: title, function, role in the buying process
Psychographic: beliefs, values, attitudes
Day in the life: goals, success metrics, current processes
Needs: problems and urgent needs
Assembling these documents requires collaboration across your organization — especially with customer-facing teams such as sales and customer success, who know your audience intimately — so you can generate ideas and package the content from a holistic perspective.
Choose your content topics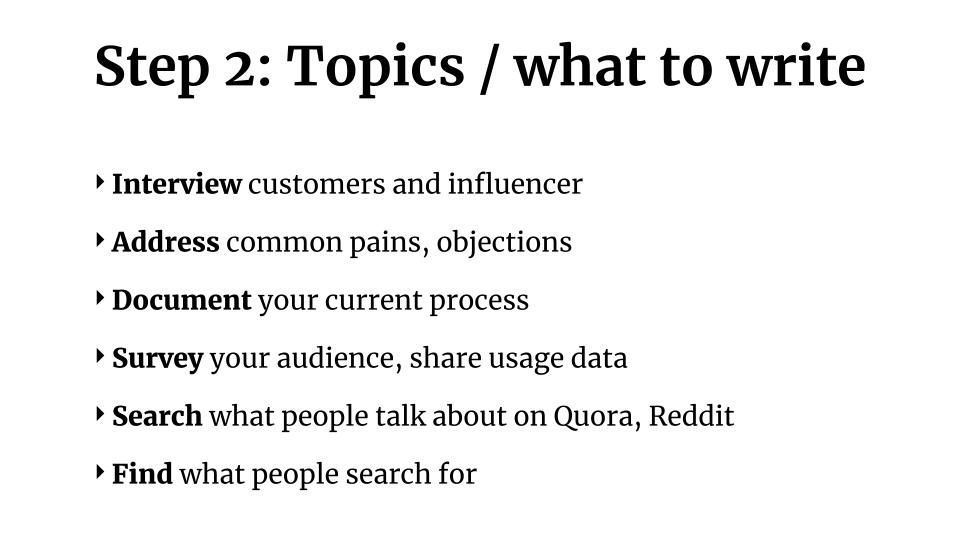 After developing your audience personas, your next step is to strategically brainstorm content topics by using the following process:
Interview: Talk to your customers and prospects to understand the types of content they are looking for, and what they would like to learn about within your industry.
Address: Identify common pains faced by your target audience, and come up with ways to solve them. Additionally, identify common buyer objections and develop content to help sales teams overcome those hurdles.
Document: As you gather information from different departments, collect it into a central hub such that it can easily be referenced later on.
Survey: Data-driven content is proven to perform extremely well, which is why surveying your audience, and even sharing usage data can help set your content apart from the competition.
Search: Use online communities such as Quora and Reddit to find what people are talking about. Those two sites in particular are extremely underrated.
Research: After identifying potential topics, conduct keyword research to analyze how you can enhance the phrasing such that you're able to attract more organic web traffic.
Remember, as tempting as it is to immediately start producing material, you need to take a strategic approach to content creation and ensure that you're developing content that adds value to your audience.
Long-form or short-form content? Which is best?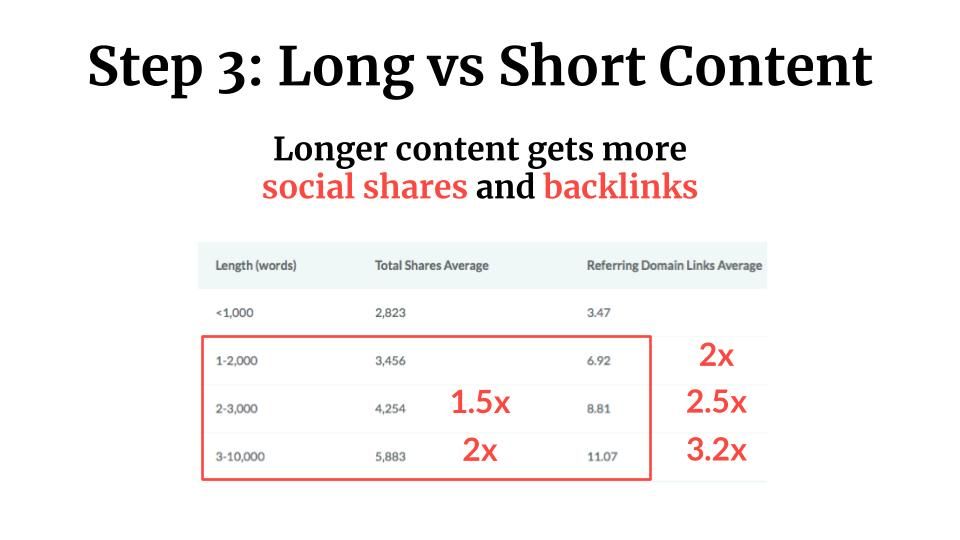 While on the topic of adding value, one of the questions that commonly comes up in the marketing space is whether content should be longer or shorter. Some people believe that if the content is too long, it won't be read. On the other hand, people feel that longer content is better as it's more thorough.
It's a debate that's gone on for a while, however, study after study has shown that longer content is more effective than short pieces. 2,000 to 3,000-word pieces get 1.5x more shares than content that is < 1,000 words. Longer content — 3,000 to 10,000 words — receive 2x shares  over < 1,000 word content.
As backlinks also are essential for content success, it's worth noting that 1,000 to 2,000-word pieces receive 2x the backlinks compared to < 1,000-word pieces. When content is 2,000-3,000 words, the link count is 2.5x higher, and 3,000-10,000 word pieces receive 3.2x backlinks.
Design an enjoyable content experience
In order to get the most from your content, you need to ensure you're presenting it in an entertaining and informative manner. Consumers and prospects don't want to read the information on a cluttered website. They want to see a professional web presence that is easy to navigate.
This is why when you're publishing content, you integrate it into your website, rather than on a third-party platform. Doing this provides you with full control over growth tactics such as SEO, retargeting, email capture forms, and chat widgets (such as Intercom or Drift).
You still can leverage publishing platforms such as LinkedIn and Medium but as secondary tools. Once you publish content on your website, a week later you can syndicate it on Medium with a link back to the original page. Then, the week after that, you can share it on LinkedIn with links back to your original site. Staggering publication times enables you to capture more attention, in smaller chunks.
As you create content, be sure to invest in custom design and images for your posts and media. Avoid stock photos when possible as they are overused and undervalue the effort you put into your work. You also should keep an eye out for ways to interlink content and cross-reference information across your website. By placing such links in written pieces, you'll encourage your audience to stay on your site longer.
Engage, then capture your audience
One of the biggest mistakes companies make with their content creation processes is hiding content behind lengthy lead-generation forms. It's the digital equivalent of running a store and asking users for their name and phone number as soon as they walk in.
People share great information that's easy to reference. They don't share or link to gated content landing pages.

Gated content has it backward - it asks customers for personal info before delivering value.
Putting aside the fact ungated content is more shareable, it also provides more SEO benefits, enabling you to improve your overall rankings on major search engines such as Google. Most search engine robots don't catalog files that are behind registration walls.
The best way to capture your visitors' information is to display signup forms as part of your main website. For example, you can configure a newsletter signup form to slide in, or pop up after a user spends a certain amount of time on your site. This enables you to deliver value before requesting additional information from the visitor.
First Round Capital and Hire by Google embed signup forms within their content in unobtrusive, but still eye-catching ways.
Effective content distribution
Although great content is an effective tool for growing your business, if it isn't being seen by your target audience, then the efforts are going to waste. That's why you need to take an active approach ensuring your content is seen by the masses. In both content production and distribution efforts, your team needs to have all hands on deck.
Rally internal teams
You can't put the entire burden of content on your marketing department. In order to set your business apart from the competition, your entire team needs to participate in the promotion. When content is published, share it through your office chat applications or email lists. Encourage employees to share the content through their social accounts.
In addition to promoting content through the organization, teams should also feel free to contribute story ideas to the marketing teams. In some cases, you can even invite team members to write guest posts. For example, an engineer could go in-depth on the philosophy behind a new feature; or a designer could break down a recent design trend in your industry and critique its advantages and disadvantages.
Social media sharing
In addition to leveraging employee social media accounts, your company needs to have an established social prescience. It's not enough to just create an account and then share content as it's published. There needs to be an effective strategy in play.
A social media strategy you can leverage is the Content Pyramid by Gary Vaynerchuk. With this model, you take a long piece of content (such as evergreen or pillar posts) and then build shorter content pieces from that. Then share those shorter posts through relevant social media channels.


Gary Vaynerchuk's content pyramid shows how to get the most out of the content you produce - by breaking it up and sharing it in various formats.
When you're writing content, you need to ensure you're planning your content distribution at least 10- 20 days ahead of time. Don't just post your articles once and move onto the next one. Share the link multiple times — changing the social post text and images of course — throughout that time period.
This might sound repetitive, but the fast-paced nature of social media means that your followers don't see every post of yours in their feeds. Posting a couple of variations of the same content means you can get more visibility for your hard work.
Pitch influencers
Although reaching out to your immediate audience is an essential part of growing your business, it only gets you so far. That's why you need to go beyond your network and pitch your content to influencers. As a rule of thumb, you should pitch your content to 10 to 30 influencers in relevant niches.
When you're reaching out to influencers, don't just send out blanket messages along the lines of "Hey, I just wrote this post would you share it with your readers?" You need to tailor each pitch to the individual influencer and let them know how the content adds value to their audience.
An email pitch to an influencer is friendly and succinct - it shows why your content is valuable and provides links to easily share.
Remember, when an influencer shares your content, it's a win-win because their audience will appreciate the share, and you'll benefit from the traffic.
Newsletters
In addition to leveraging social media, your business also should have an email newsletter that you send out weekly or bi-weekly. Or, at the very least, once a month.
Although email might seem irrelevant in the age of social media, Campaign Monitor reports that 89% of marketers consider their email campaigns to be successful. Statista found that 61% of consumers prefer to be contacted via email.
It's also a medium that you maintain full control over. Social media sites such as Facebook, Twitter, and LinkedIn, are always altering their content algorithms. They give preference to paid advertisements. You also aren't able to fully customize the social post appearance to fit your brand.
Those things in mind, you're probably wondering what you should put in your email newsletter. Although promoting your content is a good start, it can't be your only focus.
If you only use a newsletter to promote your business, readers are going to see through that motive, and unsubscribe. To keep readers engaged, you should try curating other relevant content, or sharing insights and information that are not on your website.
It's important to continuously test your newsletter performance so that you're always keeping pace with the needs of subscribers. Most email marketing tools today have A/B testing functionality built in. Every audience is different, which is why you shouldn't be afraid to experiment with fonts, images, layouts, and so on.
Share with niche communities
The final part of an effective content distribution strategy that we'll discuss here is the importance of sharing content with communities such as LinkedIn and Facebook groups; and those on Reddit, Growthhackers, and Quora.
Leveraging communities is difficult for many because there's so much noise, you need to put effort into showcasing the value you provide. In your community posts, provide insights into why the content is relevant and valuable to the audience. With that in mind, not every post is going to be appropriate for every community, and you don't want to overwhelm others.
Marketing-focused communities such as Growthhackers are great for connecting with like-minded marketers on timely topics. Quora allows you to flex your deep knowledge of a topic.
Quora is unique in that it's a Q&A website rather than a general topic website. On Quora, when you find a question that relates to your content, you can't just post something along the lines of, "Hey, I just put together this article which answers your question. Check it out!"
The best way to approach posting on Quora is to write thoughtful answers to questions, and then weave in references to your content when appropriate. Yes, this requires significantly more effort than the previously referenced communities, however, Quora posts are effective at driving traffic overtime, whereas Facebook, LinkedIn, Reddit, and others provide an initial spike and then level out.
Prove your expertise: write a book
After you develop an effective content production and distribution pipeline, you can focus on the ultimate content differentiator; publishing a book. It's an approach taken by many companies.
A few published works that stand out include: Customer Success: The Book, Subscribed, Conversational Marketing, F#ck Content Marketing, Sales Engagement, and Mastering Product Experience in SaaS.
Although authoring a book requires a significant amount of time and effort, it's a powerful differentiator that you can use to set yourself apart from your competitors.
Putting your content into action
Content marketing is what drives your company, brand, and growth. You need to make sure that when you think of content marketing, you focus on both content production and content distribution. Remember, great content is worthless if it isn't being consumed, and a large audience isn't going to listen to you unless you're adding value.
An effective content production strategy revolves around taking a strategic approach to marketing. You need to identify your ideal audience members, brainstorm topics around their needs, and attractively present that content. To be effective, you need to emphasize quality over quantity, noting the fact that longer content delivers better results than shorter pieces.
Developing an effective content distribution process requires you to focus on delivering value to others. Whether you're pitching to influencers, sharing on social media, or are posting on online communities, it's essential that you focus on highlighting the value your content provides to the audience.
Although much of this article focused on external-facing tips to help improve your content strategy, you can't overlook the importance of rallying internal teams and developing an internal appreciation for the content. Content marketing isn't a task for marketing teams to tackle in isolation. Your entire organization needs to rally around the efforts and participate in the promotion.
Ultimately, your content defines your company's identity - how you see yourselves and how others see you. It's something at the end of the day, that will be part of your legacy. The content you invest in now will pave the way for the company you become in the future.