Chapter 8: Product-led Go-To-Market Strategy Overview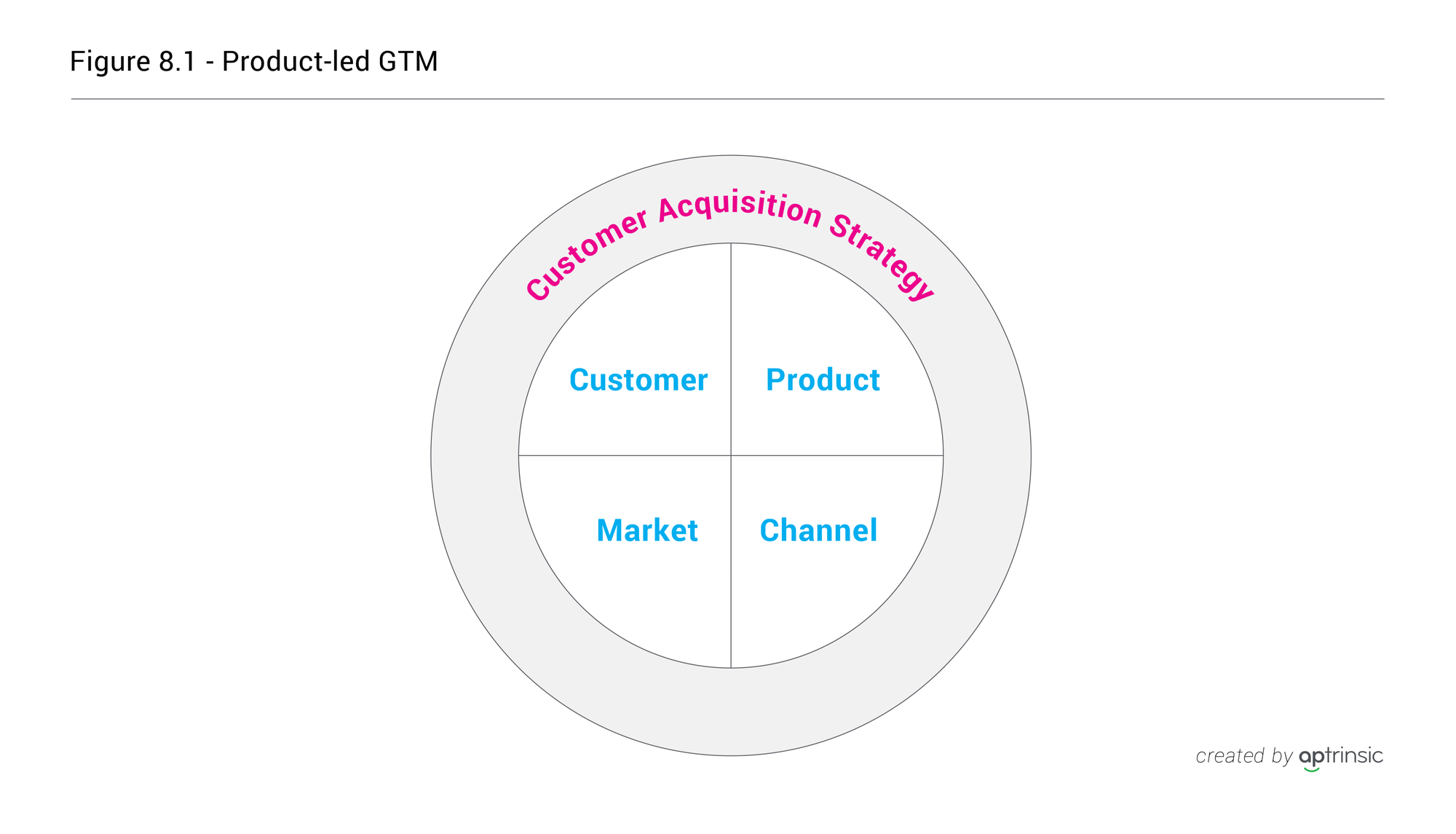 Changing customer expectations, along with consumerization of the business buying experience, are ushering in a new customer experience era in SaaS (enterprise software). In Part II, we outlined primary factors that impact how companies can fulfill customer expectations by creating personalized customer experiences. This evolution changes how companies organize and execute their GTM strategy.
We briefly discussed product-led GTM as a new approach to acquire, retain, and grow customers driven by in-product customer behavior, product usage, and analytics. Now let's dig into how to develop a product-led GTM strategy.
As described in the last section, a product-led strategy is an evolution of the GTM strategy. Essentially, a product-led GTM strategy leverages the product as a leading channel through which the company acquires, retains, and grows its customers. It's based on in-product customer behavior, feedback, product usage, and analytics. But what does a product-led GTM strategy entail, and how do you build one?
If you need a refresher on GTM strategy, check out this great presentation by Murray McCaig on the seven-step GTM strategy. McCaig, a venture capitalist and consultant with MaRS, recommends creating a detailed plan for what you're selling, who you're selling to, how to reach your target market, and where you should promote your product. These are the four must-have elements of a GTM strategy. Then, with a strong value proposition, you segment and refine your target market, choose the right channels, and build an effective sales team.
8.1 The Four Essential Elements of a Product-Led GTM Strategy
Developing an effective product-led GTM strategy requires companies to analyze each of the four must-have elements of a GTM strategy by answering these questions:
#1 Customer (WHO)
Questions:
Who is your ideal customer?
What pains do your customers experience?
Can you describe a day in the life of your target customer?
How does your product fit into the customer's daily activities and workflow?
Outcomes:
#2 Market (WHERE)
Questions:
What markets do you want to pursue?
How big is your addressable market? Is it growing, stable, or declining?
Who are the biggest players in the market?
Outcomes:
Market segmentation and analysis
#3 Product Offering and Pricing (WHAT)
Questions:
What product are you selling? What is your product's unique value proposition?
How do you describe your product's value?
How are you different from your competitors?
What is your product pricing strategy (based on usage, features, capacity, seats, etc.)?
How do you know which features to build next?
Outcomes:
Product offering
Value proposition
Pricing strategy
Product vision
#4 Channels (HOW)
Questions:
What are the most effective channels to reach your target customers?
What are the most popular publications that your target customers read?
What social media channels do your customers use the most?
What channels enable the optimal CAC?
How do your marketing channels correlate with product signup rates and won deals?
Outcomes:
Demand generation strategy
Content and distribution strategy
Paid media strategy
PR plan
8.2 Setting the Foundation for Your Customer Acquisition Process
The previous four elements come together to form your customer acquisition process. Here are the key questions to answer in regard to this.
Questions:
How do you acquire your customers?
How do you retain and grow your customers?
What product delivery method should you use (free trials, freemiums, etc.)?
What details or plays do you need to include in your product, marketing, sales, and customer success playbooks?
How do you scale your customer acquisition process?
How do you consistently keep your CLV above CAC? And how can you keep increasing your CLV?
Outcomes:
Business model, including product delivery (freemium, trial, etc.)
Sales playbook
- Selling strategies, including positioning and competitive insights
- Objection handling, prioritization, and forecasting
Marketing playbook
- Content and nurturing strategy
- Customer segmentation
Customer success playbook
- Customer onboarding and training
- Retention and expansion workflows and strategies
Product playbook
- Product vision/roadmap
- Crucial customer journeys
- Initial value
- User onboarding and product adoption metrics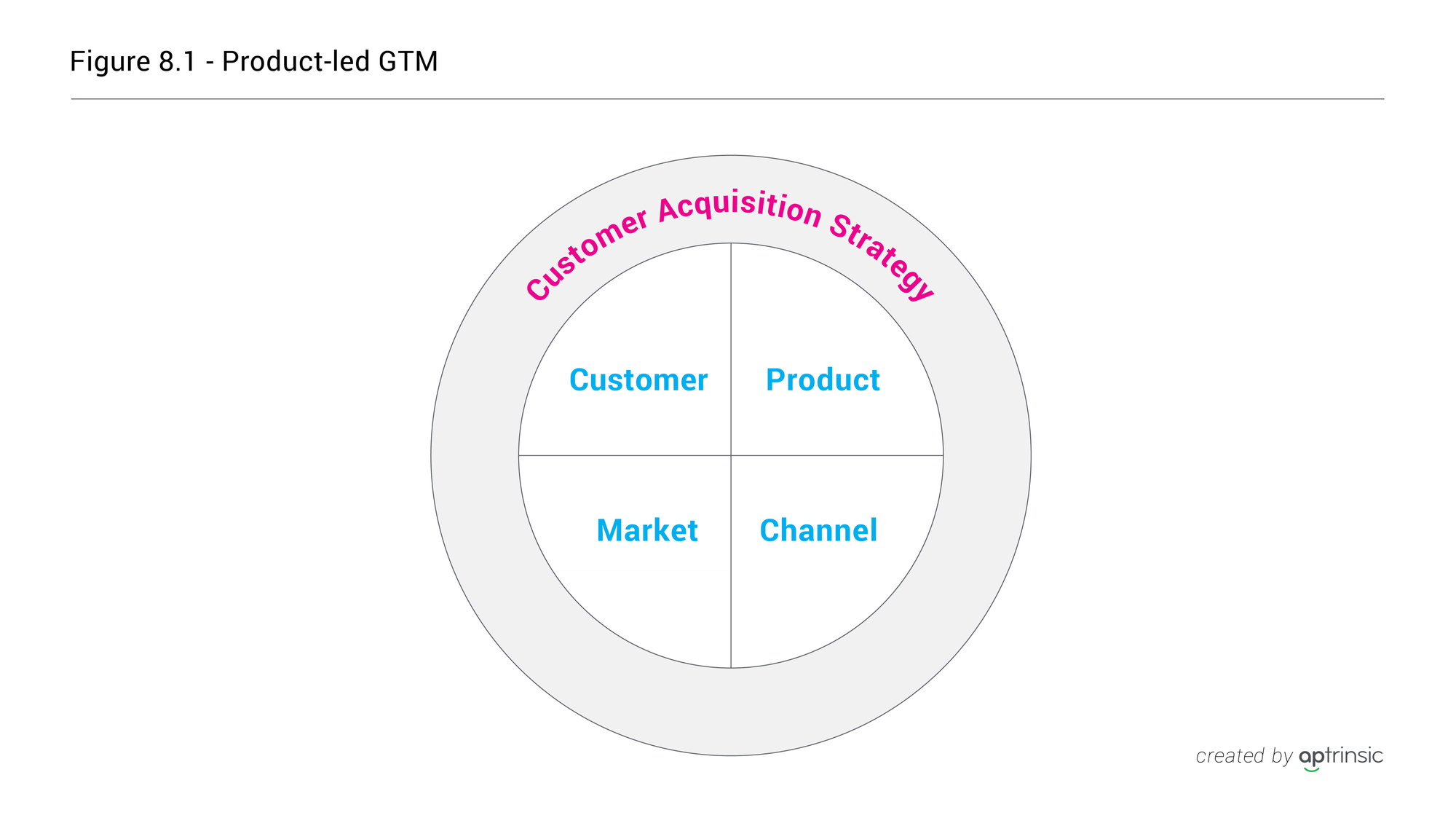 For the early stage startup, the first milestone in executing a GTM strategy is reaching product/market fit. Essentially, product/market fit is an experimentation process of finding customers in a target market with a problem that your product can address, for a price (or total cost of ownership) below the level of value that's provided in exchange.
A lot has been written about product/market fit, so we won't spend much time going over it here. We suggest reading "12 Things About Product-Market Fit" by Tren Griffin, and "Product/Market Fit: What It Really Means, How to Measure It, and Where to Find It" by Eric Jorgenson, for more detailed overviews.
A broader but related concept, company/market fit, may be more relevant, since it combines pain-product fit and customer-message fit ideas. You can find a more detailed overview in Part 1 of How to Develop Strategic Messaging and Positioning.
In the early stages of GTM, finding product/market fit is critical, while a scalable, repeatable customer acquisition process is less so. However, after you find the perfect product/market fit, you should focus on optimizing your customer acquisition process to reach ideal customers in a scalable, repeatable, and profitable way.
We recently spoke with Tae Hea Nahm, co-founder and managing director at Storm Ventures, and he underscored the importance of this last point. In his experience, the main reason startups with a product/market fit fail to accelerate growth is due to lack of a repeatable and scalable GTM strategy. Companies that find an effective (i.e., repeatable and scalable) way to acquire customers — what Tae Hea Nahm refers to as "GTM fit" — can increase and better forecast revenue growth as they invest more in their GTM strategy and headcount.
While a product-led approach impacts every part of a GTM strategy, it has a transformational effect on the customer acquisition process. Note: a product-led GTM strategy, as an evolution of a traditional GTM strategy, can be applied to new product launches as well as to existing products.
The consistent user feedback generated through a product-led strategy enables companies to make meaningful changes to the customer acquisition process, as well as to their product. Organizations can optimize marketing campaigns, sales processes, and run product growth experiments.
All four aspects of a GTM strategy — customer, market, product, and channels — are influenced by a product-led approach.
It's critical to go through the product-led GTM strategy exercise we described before launching your product (i.e., during the pre-product stage). It's also essential to embrace the idea of a continuous process of testing and optimizing the customer acquisition process after the product is released.
Teams can conduct external customer surveys and interviews to gather quantitative and qualitative data, but this feedback is less reliable than real-time behavioral data showing how customers use and respond to a product. There is no substitute for in-product user behaviors, because this data provides deep insight into how customers use and value your product (as opposed to how they say they value it).
Furthermore, this data enables the company to learn about the user and guide that person to explore the full spectrum of product features and capabilities, or the most relevant and useful.