User activation is often an overlooked step in the Customer Lifecycle. SaaS companies focus a lot of energy on free trial sign-ups, but it is not enough to get your customers into the product trial. You have to build an on-boarding process that will reduce time to value. User activation rate is an intermediate checkpoint for companies to diagnose the effectiveness of the on-boarding process.
For most SaaS companies, Customer Lifecycle follows these steps:
Attract — Visitor
Engage — Prospect (Demo Request, Free Trial Sign-up)
Activate — Activated User
Convert — Customer (paid)
Retain — Daily user
Renew — Loyal customer

On-boarding is not really a step, but a continuous process that happens between the steps 2 and 6. First, you on-board your prospects, then you on-board your customers. In order to retain and renew your customers, on-boarding morphes into customer education, which falls under a broader category of activities, that we now call Customer Success.
The sooner you will be able to prove the product value, the shorter the trial-to-customer conversion time will be. You want your prospects to get value out of your product as quickly as possible.
You need to guide your prospects through first actions inside of your product. Define your product activation process and track product activation rate.
What actions do your prospects need to take in order to realize the product value sooner?
For example, Slack's magic number is 2,000 messages. As Boss at Slack (Stewart Butterfield) pointed out in his interview:
….regardless of any other factor, after 2,000 messages, 93% of those customers are still using Slack today
(I do realize that Slack doesn't fall into the category of a typical SaaS product.)
Product activation can be one action or a set of few completed actions. If you don't know or haven't yet defined the user action that will constitute product activation then talk to your existing customers and identify why they decided to pay for your product in the first place.
Identify which one value your product provides and then work backwards to identify what action(s) need(s) to be taken by a prospect to get to this value as quickly as possible.
Case Study: how a simple product hack increased activation rate by 100% in couple of weeks (from Avg. 13% to Avg. 28%).
I worked with a startup whose product helps companies manage customer communications on Twitter. Prospects would sign-up to the product with personal Twitter account. User activation occurred when prospect replied to a tweet directly from the app.
What do you think prevented users from sending a reply tweet as soon as they signed up?
Exactly! Most of the personal twitter account do not get much tweets or mentions. Therefore, prospects had to wait for a new mention or tweet to send a reply.
So, we implemented a "thank you" tweet, which was sent as soon as customer signs up to the app. Here is an example:
"@prospect Welcome to Product! To learn how replies work, reply to this tweet from within website-URL"
In just a couple of weeks, this elegant product hack has increased the product activation rate from ~13% to ~28%. Yes, the number of new users was small, but nonetheless, if you can activate 3 out of 10 users compared to 1 out of 10 that's great improvement.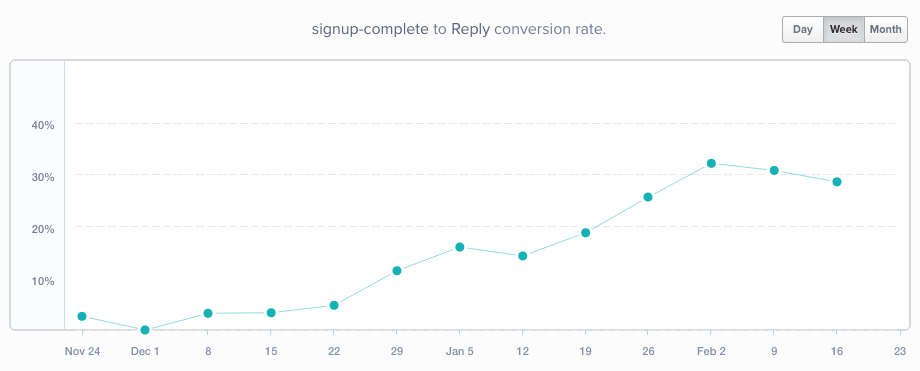 There is an additional value here — free exposure on social media and social validation from other companies trying our product.